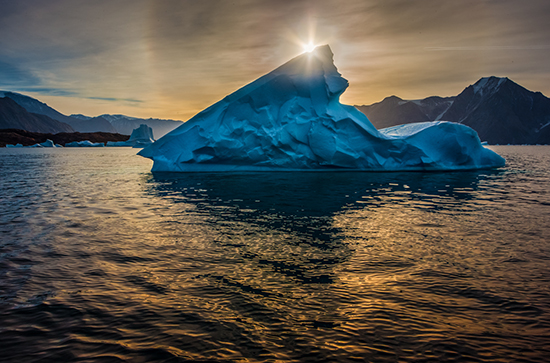 Greenland - Ice Fjords & Auroras
---
Dates: TBA
Tuition: $1,995 – Photo Program (non-refundable deposit)
$7,295 – Berth Starting Price (Get 15% off for a limited time only.)
Class Size:  Space is limited!
---
This is a Digital Photo Destinations workshop. Caponigro Arts & D-65 discounts do not apply.
September 5-18, Sold Out - Wait List/First Alert
$1,995 – Photo Program (non-refundable deposit)
$7,295 – Berth Starting Price  (Get 15% off for a limited time only.)
Special Extension – Iceland (auroras at the glacial lagoon)
The Location
Prepare to be amazed by majestic Greenland and the largest ice fiord in the world, a region defined by some of the world's largest and fastest moving glaciers, sometimes called 'iceberg factories'. Towering ice cliffs, magnificent glaciers calving massive icebergs, ancient villages, and wonderful arctic wildlife (polar bears, musk ox, fox, walrus, whales, seals, and sea birds). Now imagine all of this under northern lights.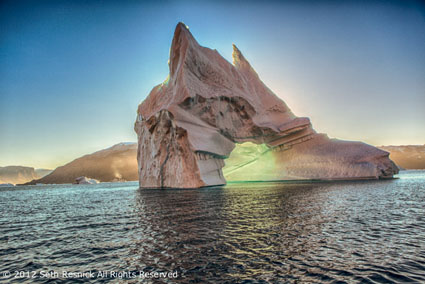 Itinerary - 14 Days / 13 Nights
Day 1 - Reykjavik, Iceland
Your adventure begins with an overnight stay in thoroughly-modern Reykjavík, the world's northernmost capital city.
Day 2 - Embarkation Day in Akureyri, Iceland
You'll fly from Reykjavík to the northern Iceland town of Akureyri to begin your expedition to Greenland.
Day 3 - At Sea
Sail through the Denmark Strait en route for mysterious Greenland.
We'll present group seminars and offer one-on-one reviews.

Day 4-7 - Greenland National Park
Your days will be spent exploring and learning about the unique history, geology, and wildlife of Greenland in fabulous locations like the Bay Of Flowers and the Antarctica Sound.

Day 8-11 - Scorsbysund Fjord
After visiting Itoqqortoormitt (East Greenland's most northerly community) we'll sail deep into Scoresbysund where you'll find yourself mesmerized by the largest, longest, and – some say – most beautiful fjord system in the world.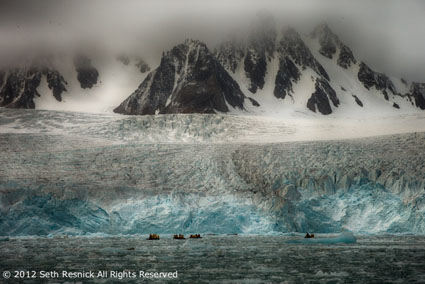 Day 12-13 - At Sea
Your homeward journey re-crosses the Denmark Strait, giving you a couple of days for whale watching.
We'll present group seminars and offer one-on-one reviews.
Day 14 - Disembarkation Day in Reykjavik
Your Greenland adventure comes to an end as you enter port in Reykjavík.
Optional Day 15-17 - Iceland's South Coast
Photograph Iceland's waterfalls, lava beaches, and glacial lagoon - under northern lights.
Price TBD based on the number of participants.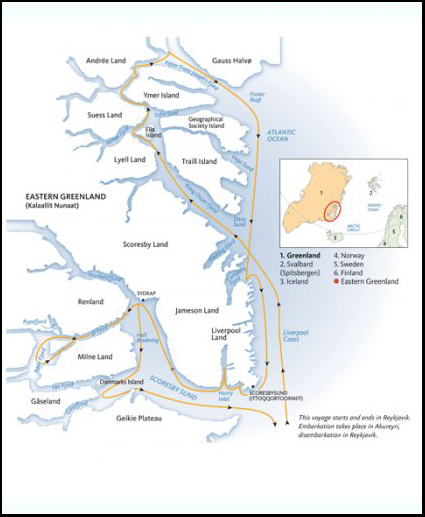 The Program This is more than a photo tour, this is a workshop! You'll experience world class locations and world class guidance. This is a unique opportunity (for a few people - a 1 to 10 participant/leader ratio) to visit one of the most amazing places on this planet led by world renowned photographers - John Paul Caponigro and Seth Resnickand special guests - who will help you boost your artistic vision, and creativity. Creativity, composition, storytelling, exposure, workflow, and post-processing are among the topics presented. You'll be able to participate in all regularly scheduled public cruise events plus our private presentations. We'll have Zodiacs dedicated to our photography group only with one instructor guiding each boat. We'll work closely with the crew to shoot in the best times at the most beautiful places. Most importantly, we'll work closely with you to help you make the most of the adventure and get the best results possible. You'll benefit tremendously from our advice, guidance, seminars, reviews, and one-on-one attention – plus the comraderie of like-minded talented participants. You'll find seeing your fellow participants images inspiring!
View more images from past adventures here.