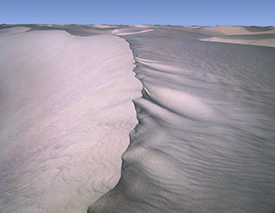 AfterCapture
John Paul Caponigro
A Visual Artist
by Paul Slaughter
Written by Paul Slaughter, this article was first published in the April 2007 issue of AfterCapture magazine.
Paul Slaughter is a world-traveled photographer and writer, and ASMP member residing  in Santa Fe, New Mexico. Paul specializes in location, stock, and fine art photography and writes articles on travel and photography. A special love of his is Jazz. He has an extensive photographic collection of the legends of jazz. See a profile on Paul in the December 2004 issue of Rangefinder magazine. You can view portfolios of his work at www.slaughterphoto.com.
Besides the moderate climate and beautiful landscapes, living in New Mexico offers many other advantages, such as meeting numerous creative artists and photographers. This past November, John Paul Caponigro, tall in stature, a person with notable charisma, was in town again giving a digital print workshop at the Santa Fe Workshops. Over the past decade I have had the good fortune to have many conversations with John Paul, a congenial, imaginative artist, photographer and educator.  Naturally I was delighted when I was asked to do a profile on John Paul for Rangefinder's new publication, AfterCapture. Over coffee in the warm fall sunshine, looking out over quaint adobe architecture, John Paul and I discussed how we might approach this profile. What follows is an outcome of our conversation.
John Paul's parents are practicing artists. His father is Paul Caponigro, the renowned fine art, black and white landscape photographer. His mother, Eleanor Morris Caponigro, once a painter, is a well-known graphic designer who often becomes involved in editing and overseeing the production of the projects she works on. John Paul said, "As a young boy growing up we had an endless parade of colorful characters, artists, musicians, writers, dealers, curators and critics, all with passionate opinions, parading through my parents studios. I learned a lot about life and art by just looking and doing. And, of course, education is continual so I learn from my colleagues and workshop students alike."
John Paul was born in Boston in 1965. As a young boy he spent time in Ireland when his father made several trips to the emerald isles to photograph on a Guggenheim grant. Both of his parents have a deep appreciation for nature, as does John Paul, and they have always chosen to live in rural environments. In 1972 they moved to Santa Fe. He spent two years at Yale and then the University of California at Santa Cruz, majoring in painting and literature, and studied photography with his father during the summers. In 1989 John Paul moved to Cushing, Maine where he, his five-year-old son, Gabe, and wife, Arduina, currently reside.
John Paul said, "My father, naturally, has had a profound influence on my artistic development. It's often overlooked how profound my mother's influence has been. I learned both exceptional craft and a deep appreciation of spirituality from my parents. Eliot Porter influenced me greatly as an artist and as a man. He was a scientist turned visual poet with extraordinary rigor, advancing the medium, while making major contributions to environmental issues. So many people have impressed me in particular ways. I appreciated Ansel Adams' legacy, Harry Callahan's experimentation, Walter Chappelle's metaphysics, Imogene Cunningham's exceptional vigor at an advanced age, Arnold Newman's love of people, to name just a few. Today I find kinship with the work of many artists practicing today: Edward Burtinsky, Adam Fuss, Emmet Gowin, Robert Parke Harrison, Richard Misrach, and Jerry Uelsmann are just a few. These are incomplete lists, but they'll give you a taste of who and what I appreciate and how wide ranging my interests are. It's a wonderful world with a lot of wonderful people in it, sharing that wonder and making it even more wonderful."
John Paul learned traditional photographic black and white printing from his father and color printing from Jim Dow. In 1991 he became an artist in residence at Kodak's Center for Creative Imaging (CCI) in Camden, Maine, taking three workshops almost back to back and reading everything about the new processes he could get his hands on. Merging his understanding of photography (through his father) and offset reproduction (through his mother) he was able to grasp the process rapidly. His involvement with digital photography had begun. (CCI closed in 1994.)
"The evolution of technology has brought many paradigm shifts to the medium of photography, the apex of representation, the most influential visual medium in history," says John Paul. "Dematerialization of images leads to greater control and flexibility. My images are routinely reproduced in a variety of media; inkjet, offset, projector, monitor. With regard to the production of fine art prints, we now use flexible originals and stable output conditions (instead of stable originals and changing output conditions) and control is displaced to points in time before the image is materialized (rather than while it is being materialized). There's much more to be said here. But, with regard to aesthetics there are simply more possibilities."
When John Paul first started exhibiting digital work it was challenging to find venues. Was it painting? Was it photography? Was it art? On the positive side, there was a lot of interest in the new medium. On the negative side, people didn't know what to make of it. He had become accustomed to a constantly changing climate. He exhibited and published his work in a variety of different venues and was often called on simultaneously to inform people about an evolving medium and set of practices. It has been both challenging and rewarding for John Paul. His first exhibition was at the Maine Photographic Workshops gallery. He had only three weeks to prepare his prints and printed non-stop, barely sleeping. Oh, The other three photographers in the exhibition were Paul Caponigro, George Tice and Eliot Porter.
John Paul works on several bodies of work simultaneously. Currently, he is focusing on a series involving drawing light in photographs (Lux), a series centering on the icon of smoke (Suffusion), and two place specific bodies of work based in Antarctica and White Sands, New Mexico. You can see some of this work now on his website and you'll be able to see a lot of the new work in August this year online concurrent with his annual open studio exhibition. He says, "I look, think, write, sketch, and photograph constantly. I don't go anywhere without pen and paper."
In December 2005 John Paul made his first photographic sojourn to Antarctica, and returned again this past February, visiting the Falkland Islands and South Georgia as well as the Antarctica peninsula. He co-teaches the Antarctica workshop with Michael Reichmann, Stephen Johnson, Seth Resnick, and Jeff Schewe, all dear friends. "It was a dream come true, as I had wanted to visit Antarctica since hearing Eliot Porter speak about his trips and watching my mother shepherd his related book and exhibition. The Antarctica subject is perfect for me with immense space and light, with surfaces that support all manner of illusions, and water in a state of constant transformation. A wasteland seemingly pristine but impacted by man and a critical element in global warming, presents challenges to notions of stability, remoteness, and separateness."
I asked John Paul what advice he would give to a person interested in becoming a professional photographer in today's rapidly changing market. He replied, "Look at and make images constantly. Study with the best teachers. Supplement a college education with independent reading, seminars, and workshops. Learn not only aesthetics and craft, but also professional business practices. Assist professional photographers to get a first hand view of the business. Expect to learn for a lifetime; education is a continual process. Individual's make the difference; interview the people you decide to spend time with to make sure it's time well spent. There's been more change in the past ten years than in the medium's 150 plus year history, with no sign of this rate of change slowing. We've met all the analog benchmarks. Now we're entering an era where representation is beginning to advance to levels never before seen. There are new ways of creating information rich documents, new ways of disseminating information electronically, and new possibilities for creative expression. It's a very interesting time to be alive."  I also inquired,  "If you were not an artist or a photographer what do you think you might do?" John Paul replied, "Jungian psychology and marine biology were career choices I considered once."
In closing John Paul said, "Living each day with an acknowledgement of death, other's and our own, brings a very useful perspective. (John Paul's first wife, Alexandra, died unexpectedly in 2004.)  Life is precious. We have no idea how much time we each have. So make the time we have count. Live the life we will be proud of at the moment of our death. And savor it. I'm grateful for wonderful family and friends. Their support has increased my appreciation of how important community is, how many communities I am a part of, and my desire to make positive contributions to those communities. My life's work is dedicated to empowering authentic individual creativity, strengthening creative communities by stimulating dialog and the exchange of information, enhancing media practices and literacy, celebrating diversity and finding common ground, encouraging conscientious creative interaction with our environment, inspiring hope and insight with the healing power of beauty. It's all on my website, along with interviews, conversations with other artists, portable galleries, downloadable PDFs, and a free electronic newsletter. Visit it. Stay tuned. There will be lots more."
John Paul currently uses Canon 1Ds Mark II digital SLR cameras with a variety of Canon lenses. (www.canon.com). For digital workflow process he uses color management software by GretaMacBeth, recently merged with Xrite. (www.xrite.com). On Mac G5 (www.apple.com) he manages raw file images with Adobe Lightroom and Photoshop almost exclusively. (www.adobe.com). His film scanner is an Imacon 848. Prints are produced on Epson Inkjet Printers, the 2400, 3800, 4800, and 9800 Stylus pros, preferring Epson's UltraSmooth Fine Art Paper. (www.epson.com). John Paul is a designated Epson Stylus Pro and a Canon Explorer of Light.