Press Releases
You can share this information now.

Request images for reproduction by emailing press@johnpaulcaponigro.com.
---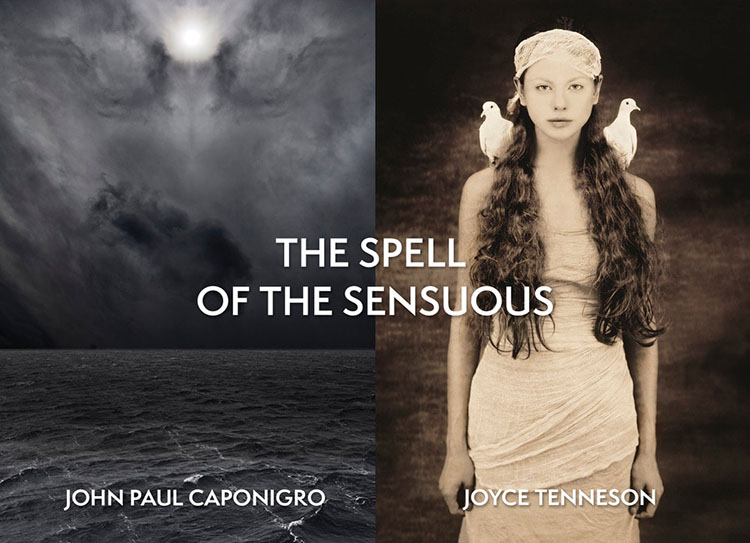 Exhibit

July 25 - September 5
The Spell of the Sensuous
 John Paul Caponigro & Joyce Tenneson
July 25th
Artists Talk 3 pm
Opening Reception 6-8 pm
YJ Contemporary Fine Art Gallery
 
East Greenwich, RI
The Spell of the Sensuous: The Fluid Nature of Perception, featuring the photography of John Paul Caponigro and Joyce Tenneson, opens at YJ Contemporary Fine Art on Thursday, July 25th.  The exhibition celebrates the works of two of the nation's foremost photographers known for their ability to create images that are poetic, evocative and mystical.  The exhibition will present iconic examples of Joyce Tenneson's portfolio of work- including images from her figurative portraiture series, her "Intimacy" series, and images featured in her 2012 book "Trees and the Alchemy of Light"– alongside works by fine art environmental photographer John Paul Caponigro - including images from his Alignment, Exhalation, and Illumination series. A review of the exhibition is featured in the July/August issue of Art New England magazine.  
 
The artists will give a gallery talk on Thursday, July 25th at 3pm to discuss their creative process and photographic style. The talk is free and open to the public but requires advance registration. (Register here) An opening reception will follow from 6-8pm that evening. The exhibition at YJ Contemporary Fine Art runs through September 5th.
 
________________________________________________________________
 

 

Exhibit

 

Melt Down

 

Aug 2 – Sep 21, 2019

 

in cooperation with

Center For Maine Contemporary Art

 

Melt Down, features stunning photographs and videos by ten distinguished Maine artists whose work addresses climate change in the Arctic and Antarctic regions. "Melt Down" has been organized by CMCA curator emeritus Bruce Brown, and includes the work of artists John Paul Caponigro, John Eide, Ella Hudson, Jonathan Laurence, Justin Levesque, Jim Nickelson, Jan Piribeck, Peter Ralston, Shoshannah White, and Deanna Witman.

Through their experiences recording and responding to the visible and visceral markers of irrefutable change in the Polar Regions, the artists in "Melt Down" bring these physically remote places and the compelling need for action to a wider audience. Their work provides a route for inspiring awareness and response when overwhelming data and science have failed to motivate. 

 
________________________________________________________________
 

 

 

Exhibit

 

Constellation

 

Visit By Appointment

 

Open Studio

 

August 3-4 

10 am - 5 pm

Artist's Talks 2 pm

 

73 Cross Road

Cushing, ME  04563

 

Call 207-354-0578

Email jpc@johnpaulcaponigro.com

 

Video Coming

Catalog Coming

eBook Coming

  

Come have an adventure in art. Be among the first to see new works from artist John Paul Caponigro's series Constellation.

 Caponigro is inspired by the great astronomer Carl Sagan who said "The cosmos is within us. We are made of star stuff." and "We are a way for the cosmos to know itself." Caponigro combines images of the night sky (many of deep space made by the Hubble telescope) with landscapes found around the world. They marry the heavens and the earth, showing the lands that envelope us with the stars that lie behind, around, and within us. When we gaze at the heavens we see where we came from and what we were, where we are going and what we will be. When we gaze at the land we see where and what we are now. In contemplating both we embrace an expanded view of our place in the universe and ourselves. To find our place within the universe we must find the universe within us.

Join us as we celebrate the wonder of it all.

 

A second exhibit features new images by Arduina Caponigro.

 

View rarely-seen studies.

Visit the artists' working studio.