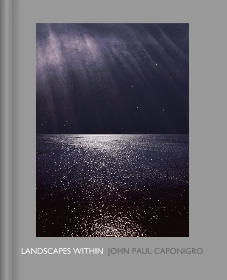 Press Releases
John Paul Caponigro
Landscapes Within
May 25, 2011 - Cushing, Main
The environmental artist and author John Paul Caponigro announced today that he has published a new photography book titled Landscapes Within.
Landscapes Within has been designed as a fine art catalog complimentary to Caponigro's framed traveling exhibit of the same title. View Famed Exhibits
Continuing in the vein of his 4 other photography books, John Paul's current book takes the viewer through a gallery viewing of his highly collectable fine art photography. Water, deserts, clouds and stones show a time and place. Blazing colors, twinkling stars and the dark of night show the progression of time.
As most of the images in this book are altered to some some degree, the viewer starts to question the real and the unreal while observing the work. Caponigro repeatedly asks the viewer to question the altered and the unaltered. He asks us "How do we know what we know? Is seeing believing? Is believing seeing?" He asks the viewer to connect with these images and experience them in a way that makes them question the lasting beauty around them. What is the truth behind the image? Can we preserve this environmental beauty while being a part of it?
Caponigo says, "... I photograph wastelands. This work is not merely a document of vanishing places. It is a call to connection. It's a call to connection with nature - the matrix from which we are born, which sustains us while we are alive, and to which we return when we die." Through his work viewers rekindle their own deeply felt relationships with nature.
A prolific writer and intriguing speaker John Paul has written and lectured on photographic subjects and creativity for many diverse publications and audiences including the Huffington Post, and TEDx. John Paul's work has been shown in many galleries and museums throughout the country. His fine art photography is in multiple institutional and corporate collections such as Estee Lauder to the Smithsonian. John Paul's work has been published widely in numerous periodicals and books including Art News and The Ansel Adams Guide.
To learn more about John Paul's work please visit his website.