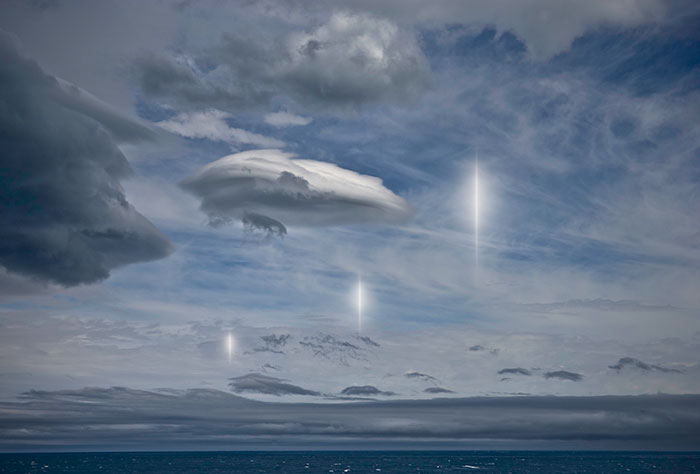 Press Releases
John Paul Caponigro
New Work 2011
Annual Exhibition
August 6-7, 2011
Artist, author, lecturer, digital pioneer, John Paul Caponigro presents a stunning collection of never-
before-seen images in his annual open studio exhibit. You are cordially invited to tour John Paul's state-of the-art studio and experience this spectacular new work – view prints and portfolios, hear the artist speak, and more. You can be among the first to see this new body of work during this extremely popular event, open for one weekend only: August 6–7 from 10 a.m. to 5 p.m The artist will discuss his work daily at 2 p.m. Thereafter, private viewings may be scheduled by appointment only. Special preview discounts are available
for a limited time only.
It's been the artist's most prolific year to date. Producing more than one hundred twenty new images, three bodies of work, some in progress for fifteen years, have been brought to completion. The results are surprising, even for the artist. Two new books featuring this work have been released: Refraction and Respiration – which you can preview and purchase online at johnpaulcaponigro.com. 
Photographs from the series Refraction present fragments of geometric patterns rendered as if they are made of light and integrated into fantastic landscapes. These photographs ("light-drawings") have light
drawn in them. The shape of number, geometry, becomes a tool for exploring deeper orders in nature. Light becomes a tool for understanding unseen levels of reality and the connections between all things. This work creates a felt connection with the strange, new world-view contemporary science presents to us, but which we have not yet come to fully understand, and moves us one step forward toward reconciling relativity.
Images from the series Inhalation and Exhalation display symmetries created from images of water and sky. The resulting patterns reveal a hidden dimension in the world around us and draw forth a rich upwelling of association within us. At once a window into the world around us and a mirror into the world within us, these organic Rorschach patterns are revelatory on multiple levels. Through this lens, all things appear to have a life of their own. Nature is seen as a living temple.
Simultaneously representational and abstract, this daring new work contains powerful energies that will transport you.
Come enjoy prints, books, web galleries, performances and conversations with the artist during this very special event.
For more information including directions, previews, reviews, statements, audio, video, and press kit visit www.johnpaulcaponigro.com or email info@johnpaulcaponigro.com.