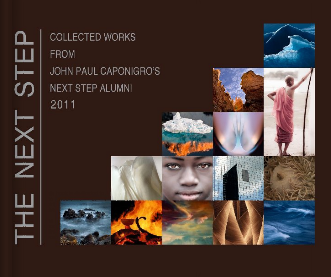 Press Releases
John Paul Caponigro
Next Step Alumni Exhibit
Renaissance Fine Art & Design Gallery Carmel, IN
May 20 - June 24, 2011
Renaissance Fine Art & Design Gallery and The Caponigro Next Step Group present a beautiful collection of John Paul Caponigro's alumni's work May 20 - June 24, 2011. You are cordially invited to view this diverse work at the Renaissance Fine Art & Design Gallery, One South Range Line Road  Carmel, IN. The opening for the exhibit will be Friday, May 20 at 5 pm. Many alumni will be on hand to discuss their work personally with you.
For over 15 years John Paul Caponigro (artist, author, educator, digital pioneer) has been a leader in the field of training photographic artists using digital technology in their creative processes. Over 1000 people have studied with him his workshops, with tens of thousands more benefitting from his seminars, writings, and audio/visual products. A member of the Photoshop Hall of Fame, author of the book Adobe Photoshop Master Class and the DVD series R/Evolution he has been a contributing editor/columnist for many magazines including Digital PhotoPro, PhotoshopUser, CameraArts, ViewCamera, PhotoTechniques, AfterCapture and websites such as Apple.com and the Canon Digital Learning Center. His monthly enewsletter helps over 15,000 members. He lectures frequently at national events including Photo Plus, Photoshop World, the Epson Print Academy and at educational institutions such as Brooks, Hallmark, and MIT.
At the request of a small group of alumni from the Maine Media Workshops, John Paul Caponigro's Next Step Alumni group was started. They have met collectively and privately for over 9 years in private workshops and online forums. The membership has grown to 75 members (by invitation only). The name for the group came out of John Paul's constantly asking his students, "What's your next step?" It was quickly found that prompting focussed individual's to generate concrete results quickly and the realization that there's always a next step. Individual growth has been extraordinary. Many have become professionals in their chosen fields. Everyone has made their own creative lives more vital and dynamic, in part with the help of the other artists in the Next Step community.
Caponigro has collected and guided the current members to create a community of diverse members who share common interests dedicated to advancing both their own creative lives and the lives of others through collectively sharing their feedback and knowledge with one another in constructive ways. Caponigro has had an influence on all of the participants but his style is not directly reflected in their work, "It's a privilege to help foster each individual's authentic artistic voice in ways that are most appropriate for them. If I attempted to make their work more like my own I would be doing their spirits a great disservice and robbing myself of an opportunity to challenge and develop my own sensibilities at the same time. We have all helped each other grow in this process." Individuals within the community have encouraged each other to pursue their own unique creative paths.
The members of John Paul Caponigro's Next Step Group collectively set the goal of producing a group exhibit. This exhibit is their achievement. 24 members are currently participating in the exhibit. Entry criteria were rigorous. Each artist produced a thematically cohesive body of work, artist's statements, book, and website. The resulting work is as diverse as the individuals, ranging from documentary journalism, editorial, still life, floral, nude, landscape and abstraction.
Clearly, they have been productive. The group continues to evolve with individual needs and has spurred many other events involving select members, such as travels to Antarctica, Iceland, Namibia, and China. No one knows what all the next steps will be for John Paul Caponigro's Next Step. It's a truly surprising community that continues to grow just as it's members do.
Find more information about the Renaissance Fine Art & Design Gallery
For more information about the exhibit.
For more information about John Paul Caponigro.