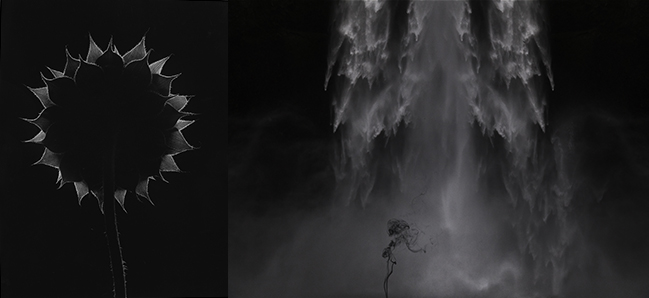 Press Release
Two Generations Exhibit
PhoPa Gallery, Portland, ME
Jun 25, 2014-Aug 2, 2014
Maine Media Gallery, Rockport, Maine
Aug 6, 2014-Aug 30, 2014
Taubman Museum of Art, Roanoke, Virginia
Sept 27, 2014-March 2015
The works of father and son Paul Caponigro and John Paul Caponigro are featured in the photographic exhibit "Two Generations".  Over twenty images by each artist highlight the two careers of this family of artists. 
Born in Boston in 1932, Paul Caponigro is renowned as one of America's most significant master photographers. When he was thirteen, he began to explore the world around him with his camera and subsequently sustained a career spanning nearly fifty years. He is currently regarded as one of America's foremost landscape photographers. Paul Caponigro has exhibited and taught throughout the United States and abroad. Recipient of two Guggenheim fellowships and three National Endowment for the Arts (NEA) grants, Caponigro's images will be found in most history of photography texts and contemporary art museums.
Fine art photographer Paul Caponigro's forty plus year career has been an illustrious one. Paul was captured by photography early in life and the camera quickly became a lasting vehicle for reflection and discovery in nature. A student of Minor White he later discovered a kindred spirit with the west coast school of photography. In 1966 he began an enduring affinity with the megalithic structures of the British Isles. His exquisite craft and intense mystical sensibility bring to light images of extraordinary wonder he describes as "dreams locked in silver". The recipient of two Guggenheim fellowships and three National Endowment for the Arts (NEA) grants, Caponigro's images are founded in most history of photography texts and contemporary art museums. 
Paul's son, John Paul Caponigro, is one of the most prominent artists working with digital media. His art has been exhibited internationally and purchased by numerous private and public collections including Princeton University, the Estée Lauder collection, and the Smithsonian. John Paul dynamically combines his background in painting with traditional and alternative photographic processes using state-of-the-art digital technology. His life's work is both a call to connection with nature and a call for conscientious creative interaction in our environment during a time of rapid change. Many viewers find his work profoundly spiritual.
Respected as an authority on creativity and fine art digital printing, he is a highly sought after speaker, lecturing extensively at conferences, universities, and museums, in venues as diverse as Photoshop World, MIT and TEDx. He teaches workshops globally.  John Paul's work has been published widely in numerous periodicals and books including Art News and The Ansel Adams Guide. A contributing editor for Digital Photo Pro and a columnist for the Huffington Post, he is the author of Adobe Photoshop Master Class and the DVD series R/Evolution. John Paul is a member of the Photoshop Hall of Fame, one of Canon's Explorers of Light, an Epson Stylus Pro, and an X-Rite Coloratti. His clients include Adobe, Apple, Canon, Epson, Kodak, and Sony.
Responding to interest in seeing their work together the show "Two Generations" was assembled and first exhibited in Rockport Maine.   The juxtaposition of traditional darkroom images and the more contemporary digital photographs may seem startling at first.  Both artists utilize a different medium and a different vision. Paul is a traditional straight shooter and John is a process artist. After careful inspection what is more apparent are the similarities, the vestiges of the fact that this is the work of father and son. it is apparent each artists work influences the other and many of their key interests are the same. Both artists share a deep reverence for nature, a love of stone, a fascination with the subtle palettes of the natural environment, and a strong dedication to their craft.