Artist Statements
Highlights | Themes | Series | Antarctica | Images | Voice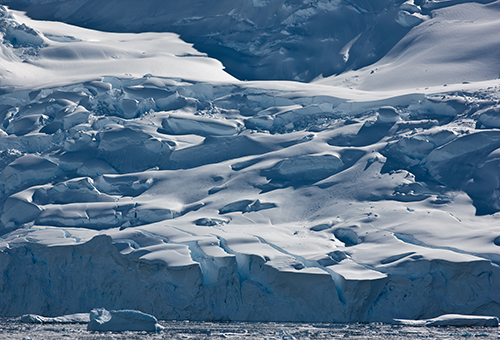 Antarctica, 2009
July, 2009
To date, I've made three voyages to Antarctica. December 2-11, 2005 we sailed down the Antartic Penninsula from Deception Island through the La Mer Channel to Plenneau Bay. February 4 - 23, 2007 we sailed to the Falkland Islands and South Georgia before returning to the Antarctic Penninsula, again ending at Plenneau Bay. January 10 - 22 we sailed south of the Antarctic Circle to the Gullet and then worked our way up the Antarctic Penninsula finally departing from Deception Island. All three voyages were photographic workshop expeditions lead by Quark Expeditions guides, organized by Michael Reichmann, and cotaught by Stephen Johnson, Seth Resnick, Jeff Schewe and myself. The participants were all avid photographers, some of them professionals.
Each voyage was very different from the other, even though we returned to some of the same locations.
The first voyage was characterized by pure, clear color. In ten days, we had endless amounts of sunshine, the sun never truly seemed to set and only a few days of inclemency. On the first trip we were amazed by four hour sunsets. We entered the La Mer Channel at sunset. Icebergs floated by. Mountains caught on fire. The excitement was high. Photographers know they have to move fast in magic light like this. It doesn't last long. We photographed frantically - and filled up our cards. We ran to our cabins and downloaded, hoping the light would last. Returning on deck, we were thrilled to see the light had not failed. We photographed even more frantically - and filled up our cards again. Again, we ran to our cabins to download and returned to deck, delighted to see that the light had still not failed. Again we photographed, but as we continued the pace began to get slower and slower, until there was stunned silence on the deck. It had been an hour and a half and the light had still not failed. It took more than three hours for dusk to approach. Many of us spent every minute of it bathed in extraordinary color. It was a moment none of us will forget.
The second voyage was characterized by fabulous forms emerging out of heavy weather. In twenty days, we hardly saw the sun amid rain, snow, ice, fog, and on several occasions heavy katabatic winds that knocked us off our feet. On the second trip we were astonished by an ever-changing parade of ice sculptures. We saw organic shapes cut in sapphire and emerald off the coast of South Georgia. We saw monumental blocks, shrouded in low hanging clouds, drifting through the Weddell Sea. We saw frozen denizens of the deep in the Gulf of Erebus and Terror. We saw the tips of sinking mountains in Paradise Bay. And, at the end of our voyage, we entered an 'iceberg graveyard'. No one will forget the morning we spent in Plenneau Bay. We left the ship in zodiacs, ten at a time. For the first time, all the instructors were in one boat - Chris Sanderson was filming for LuminousLandscape.com. As we drifted past viking ships and space ships, pyramids and cathedrals. We floated into the bowl of one immense berg, the blue ice shimmering below us in inches of water and were blocked by a keyhole exit. Pulling back out and around, we gasped as we saw the other side of the arch. Flanking it was a seemingly endless row of columns. We blinked and blinked again. It look for all the world like a grecco-roman fantasy. Was it possible that this was a natural shape? As we drifted through the scant few hours we had there, we were keenly aware that what we were witnesses to that morning, very few, if any, others would ever see this again. It would last a matter of days. At the very best, a few weeks. And then it would be gone.
The third voyage was characterized by amazing light. In ten days, we were first driven south of the Antarctic Circle, by rain and fog so thick it was almost dark; then the weather cleared dramatically almost blinding us with a dazzling, crystalline clarity; and slowly, slowly, over days, it covered over, once again, changing from a pearlescent veil for the sun, to thick curtains that draped jagged peaks, and finally to a roaring gale that filled the air with sheets of ice. On the third trip we were rendered speechless by light - endless changing light. On a clear, clear morning, the light overwhelmed us. We were south of the Antarctic Circle when we entered the Gullet. During our approach we all wondered where the captain was taking us. We were sailing right into a mountain. We kept searching There seemed to be no inlet, until quite unexpectedly we turned into a frozen fiord of unimaginable splendor. It was as if walls of cloud had frozen in place on either side of us. The water was glassy smooth, forming perfect reflections. We wove our way through endless sheets and fragments of ice of all sizes. On our twisting journey, we constantly wondered, "If the ice grew too thick, would we get frozen out? Would we have to turn back?" Only a few of us wondered, "Would we get locked in? What then?" We were in an impossibly remote location - one few had ever been to. It was profoundly white. The silence penetrated you. And we grew quiet and still. This lasted a full day. As we left, many of us felt we had just witnessed a paradise - and it was nothing like we had imagined.
There is a profound sense of privilege that comes from being in the presence of such rare beauty. It touches you deeply. Witness to the extraordinary, you leave changed - for the better. It's a blessing born of grace and giving birth to more grace. It's as if you've been given a gift and you feel compelled to keep giving it.