Artist Statements
Highlights | Themes | Series | Antarctica | Images | Voice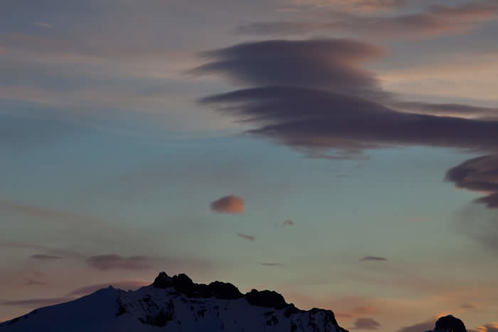 Antarctica Evolving Photographic Practice
July 15, 2009

To date, I've made three voyages to Antarctica. December 2-11, 2005 we sailed down the Antartic Penninsula from Deception Island through the La Mer Channel to Plenneau Bay. February 4 - 23, 2007 we sailed to the Falkland Islands and South Georgia before returning to the Antarctic Penninsula, again ending at Plenneau Bay. January 10 - 22 we sailed south of the Antarctic Circle to the Gullet and then worked our way up the Antarctic Penninsula finally departing from Deception Island. All three voyages were photographic workshop expeditions organized by Michael Reichmann and cotaught by Stephen Johnson, Seth Resnick, Jeff Schewe and myself.  The participants were all avid photographers, some of them professionals.
On the first trip I was very surprised to step off the boat at the end of the voyage with a finished body of work, which contained a majority of images that were directly representational with very little alteration. This was the first time I extensively reviewed and processed a volume of images on site. On the second trip, I set a goal to repeat this process, hoping to expand that small body of work and explore that way of working more deeply. On the third trip, I repeated that process looking for ways to amplify latent themes and vary my approach in meaningful ways.
Each trip was more productive than the previous one. On the first trip I made, more than a dozen finished images. On the second trip, I made more than three dozen finished images. On the third trip, I made more than six dozen finished images. I attribute this increase in productivity to an increasingly clear vision and mission.
Currently, for this project, I've limited my photographic practices to the standard practices accepted by most editorial photographers and expected by most media outlets: cropping; despeckling but not retouching; ; noise reduction; sharpening; little or no local color adjustment; no compositing, except for panoramic stitching. I've deliberately not released obviously related highly altered images within this body of work, nor do I currently display highly altered images in the same context. Interestingly, there are few clear published guidelines for what is considered acceptable practice today, even though there are many controversies over specific examples released by various media outlets.
Because I'm best known for producing highly altered photographs, to many this may seem like a reversal of my previous practices. In fact, it's not even a return to my roots, it's an intensification of practices I have always adopted. I have always produced a number of images that involve minimal alteration. Typically, they have been placed in the same context as highly altered images and so they are considered differently. I have always used minimally altered photographs and highly altered photographs together to clarify the nature of photography itself as well as our uses and expectations of it. So, the limitations I impose on myself for this project are really only a shift in the balance of practices I adopt. This shift has been in response to many factors, including my desire to continually challenge myself artistically, but primarily to satisfy my desire to make effective conscientious contributions to culture by intensifying the use of my work for environmental advocacy. I've begun simultaneously producing dual bodies of work that run in parallel with one another, one minimally altered and one highly altered.
Let me clarify my use of the terms minimally and highly altered. To avoid assumptions and even more because of the tremendous respect I have for the work and practices of photojournalists, I am reluctant to use terms like journalism and documentary to describe my work, even though it is produced with similar practices and has similar intents. Because I also exhibit work in contexts that showcase a variety of mixed media, I am reluctant to use the term representational; in those contexts, anything that represents a subject even in the most minimal way, such as a horizon, would qualify as representational. Every photograph is altered to one degree or another, so I avoid the terms unaltered. Framing this issue as a dichotomy, drawn between two poles, altered and unaltered, offers only an either/or choice, makes an assumption that there can be such a thing as an unaltered photograph, and implies that a photograph can be unbiased, and moreover does not adequately address the wide spectra of practices both possible and applied between them. Images are altered to one degree or another, for one reason or another, and it's important for the viewer to be informed of both, particularly in the field of journalism and for images that are intended to play socially conscious roles.
At the heart of these issues is the matter of representation. Some would argue that representation is the single most important issue for the medium of photography. The language we have at our disposal today does not adequately address the spectra of possibilities available to us previously or the new possibilities that have arisen as a result of evolving technology. Limited language limits conception and subsequently application. We need better language. Better language: better perception; more choices; better choices; better results. To create better language we need better dialog. Dialog is something I have always sought to stimulate in an effort to advance understanding of, acceptance for, and even celebration of highly diverse practices within the arts and as a result empower viewers with even more interesting and higher quality information.
My work in Antarctica can be seen as both separate from and similar to my larger body of work, which is a fine art production rather than a product of journalism. The primary impulse of this work is to inspire, connect, and involve viewers with the subjects of this work; Antarctica as a regulator and indicator of global climate; photography as an evolving medium that continues to advance representation; and contemporary media practices. The images are intended to be repurposed in many different ways and in many different contexts to increase their effectiveness at stimulating awareness.
With regard to the practices I have adopted in the production of my work in Antarctica, while I have not challenged current practices to date, I fully intend to and I intend to do so in a respectful and meaningful way. Today, we are using new tools and there are new possibilities. Today, we should not be limited by the conventions built upon outmoded technologies of yesterday or practices adopted based on them. It's important that we regularly reconsider, revise, and expand our practices, as our capabilities and needs evolve, both to strengthen our understanding of them and to promote our awareness of new practices and their conscientious uses. There are many new ways to advance representation and create sophisticated high quality information and that truly informs viewers about how, why, where, and when that information was created, released, and distributed so that viewers can form their own opinions and come to their own conclusions in informed ways.
In many ways, contemporary culture is experiencing a media crisis. Standard media channels no longer enjoy the credibility they once did. There are fewer and fewer of them and they are operated under continually shrinking budgets, while trying to respond to demands for increasingly diverse content and increasingly rapid response. Now more than ever we need a rigorous and sustained dialog on media practices, from creation through delivery, from professionals and amateurs alike. And we need new media products. Many of us today have become outsider journalists or non-professionals who impact the media sphere. New technology has enabled us to share our images with a wider public through unvetted channels. This is changing media, culture, and history. Blogs broke the news of an American president's infidelities. The Associated Press released software applications that allow anyone to upload images from a cell phone for possible use in news media outlets. The use of the social network Twitter shifted political events in Iran. In many respects, I've become an outsider journalist. I've shared my work in Antarctica in many ways; fine art exhibitions; limited edition posters; publications featuring fine art; print on demand books; lectures at universities, trade organization meetings, and trade shows; blogs, including live posting from Antarctica; social networks; accompaniment to technical literature; and advertising for new technology to name a few.  I hope to raise awareness and stimulate constructive dialog about media issues at the same time I raise awareness of the subjects of my work.
To one degree or another we are all involved. We all have a role to play in evolving media; at a minimum we consume, discuss, and value it; at a maximum we produce it. I encourage you to increase your awareness of and involvement in these issues. We enjoy extraordinary possibilities, freedoms, and responsibilities.