Artist Statements
Highlights | Themes | Series | Antarctica | Images | Voice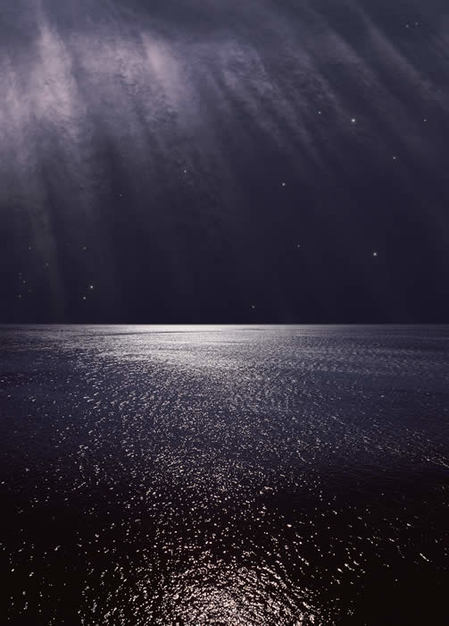 Nocturne XII
The Language of the Night, 1999
I had been pursuing seascapes, studies in proportion and color, visual equivalents of music: sonatas, preludes, etudes, and variations. It was time for a nocturne.
Generally my preliminary studies, in pastel, contain only a little variation. They match two tones and two colors. This helps strip the image down to its bare essentials making visible the dominant relationship without a great deal of distracting variation. Everything is played against those two notes. They set the key of the piece. Proportion is critical.
In Nocturne xii, detail is equally important. The tiny points of light that shimmered across the water looked like stars in the sky. While the stars in the sky moved so slowly that they looked still, these came and went in the wink of an eye. There are two different senses of time at work here. Both are brought to the same time, the unchanging time of this image. The stars in the sky are separated by vast distances, while the points of light on the surface of the water are all held on a single plane. One is deep, the other flat. If you see the surface of the atmosphere, you can't see the stars, while if you can't see the surface of the water, the starry reflections disappear. Surfaces reveal and conceal.
They say we can't see color at night. By comparison to day, I suppose that's true. However, if there's a significant amount of light, there are wonderful colors to be found at night.
Many people don't consider black or white to be colors. It's true that a pure black has no bias toward one hue or another. It's also true that every hue shares something in common with every other hue; they coalesce around a scale of brightness (dark to light). Some consider black a color for color is what we see. Aside from the one pure black, there are many blacks that have subtle tints of one hue or another. Each has a character all its own.
I've been interested in making images of night for some time. My initial efforts with paint were frustrating. I couldn't see the image and the subject at the same time. This forced me to paint from memory. This is an attempt to make a photograph from memory. A traditional photograph would not have rendered the night as I experience it. If I had made this image from an exposure at night, the waves would likely have turned to mist. The long exposure needed would render the water as pure motion. Like my preliminary studies, there would be a definite horizon line but little detail. It would be soft but not still.
Rather than deferring to the vision of the camera eye, I'm now able to render either what my eye has seen or what my mind's eye can envision.