Artist Statements
Highlights | Themes | Series | Antarctica | Images | Voice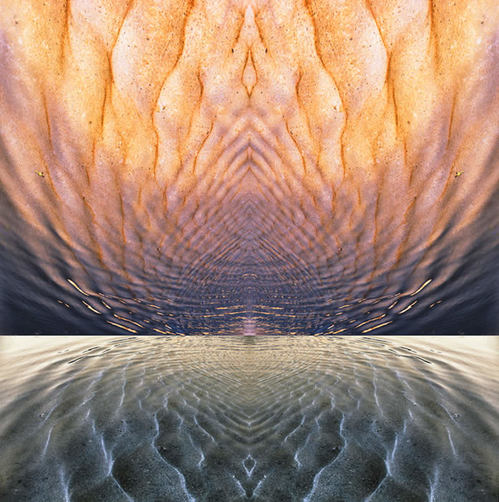 Rosa Celestia
April, 1998
At an early age color photography meant four words to me: Eliot Porter & Ernst Haas. I had the great pleasure of knowing them both. Both knew and loved Maine intimately. I was introduced to Maine and Ernst through the Maine Photographic Workshops where my father taught (we sometimes stayed together in Ernst's house when he was teaching) and where I now teach. The dynamic community of professionals that congregates there on an annual basis for over a quarter of a century has made my experience of Maine and photography that much richer. Over the years its rhythms have punctuated my life – it contributing to my life, I contributing to its life.
With Ernst and Eliot, I share a similar interest in the structure and palette of nature, in the peculiar dichotomy that can be photographically forged between the literal and the abstract. The influence of others is at work here too; Albers and Rothko. In Albers I find the relative nature of perception, in Rothko the soulful or emotionally evocative nature of color. All found poetry in nature. Thoreau said, "The earth is not a mere fragment of dead history, a stratum upon stratum like the leaves of a book, to be studied by geologists and antiquarians chiefly, but living poetry like the leaves of a tree, which precede flowers and fruit – not a fossil earth but a living earth."
Rosa Celestia is the cornerstone of a suite within Waterways, a subset of the Elemental series. It has an alternate title, rarely used — Particle/Wave — evoking Heisenberg's uncertainty principle. The observer and the observed are inextricably linked. Light remains a profound mystery, even to modern physics. Light seems close to the root of the mysteries of perception and existence. Light, too, reminds me of the limits of what we can perceive. There are, after all, spectra that we cannot see. But just because we cannot see something (using our primary mode of perception and verification) it does not mean it is nonexistent. We cannot see a magnetic field; we can only measure its influence on surrounding materials – iron filings can draw a cross section of its shape for us.
Initially, I was enchanted by the cascading play of light as I waded on the shores of Hewitt's Island, Maine. I had no idea what this particular instant would become, only that I was enthralled. Water simultaneously holds, blocks, and transmits light. It intensifies and diminishes. Its undulations mark the passage of an invisible breath, the wind, a mysterious component of this experience — an equal presence. What was fleeting, now a moment frozen in time, evokes the eternal. Wonderful that one could find the universal in the particular. Wonderful that a simple moment in time could plant it seeds in me, in film, in paper, in you, and grow to become even more.
I have been captivated by Rorschach test patterns, formed from complex patterns found in nature. In Rosa Celestia, the resultant symmetry tends to be less anthropomorphic than others; it is more formal, blending Euclidian and fractal geometries, evoking sacred geometry. "In contemplating the mandala we are contemplating the self" wrote C. J. Jung. I have found these patterns to be marvelous catalysts for contemplation and conversation. In my work, I strive to strike up a lively dialog with the viewer — not intending to impose a single interpretation on the text of the image, preferring that that interpretation become an ongoing and creative process for all involved. I will only discuss what I see and have seen over time with another person if I am certain that, rather than replacing their initial impressions, it will enrich and further their ongoing inquiries. Words, after all, function best with images when they deepen their essential mystery, allowing them to breathe, rather than explaining them away by imposing a rigid identity.