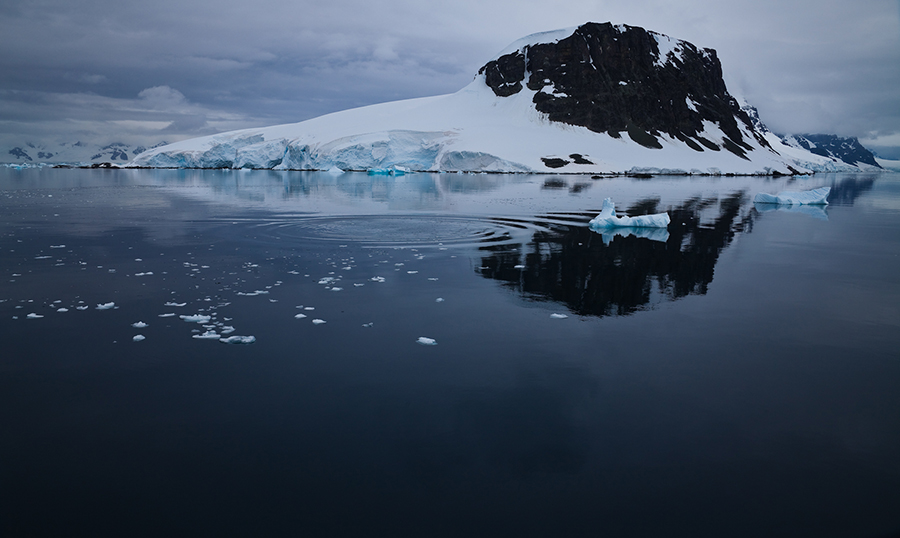 Now Featuring
I was on the Ocean Nova with four other teachers and about 75 students. We were coming up through the Neumayer Channel, a little more than halfway through our trip south of the Antarctic Circle. A whale moved past us, his crest breaking the surface of the water repeatedly. Amid all the images with fins, this image seemed most poetic to me. Only the residue of the whale is seen. It has a powerful sense of something hidden and vanishing. It was windy, and the boat was slowly moving through a changing landscape. Boats are wonderful because they can get you to places you could never get to otherwise. I stood on the bow patiently waiting to get the shot. You have to think fast in situations like that because you can't go back. It'll never be the same. You get one chance. This changes the way you think, see, your tool selection and how you use them.
This image is part of the second edition of my book Antarctica. My work in Antarctica is intended to raise awareness of the region and its global importance for climate. While I was in Antarctica I made live blog posts; people around the world could track my location and read a daily journal of my experiences there. Now I'm building interactive Google maps of the voyage for my website. As a child I knew and appreciated Elliott Porter and Ansel Adams. I admire photographers who advance environmental concerns through the arts. I'd like to make a contribution too. And, I'd like to collaborate with other artists to generate more interest for these issues.
Contact us for inquiries about prints, licensing or commissions.