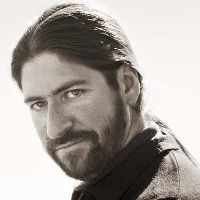 About John Paul Caponigro
John Paul Caponigro is respected internationally as one of the most prominent artists working with digital media processes. Exhibited internationally, his work has been purchased for numerous private and public collections including Princeton University, the Estée Lauder collection, and the Smithsonian.
Dedicated to fostering the growth of creativity in others, he exhibits, writes, lectures, and teaches seminars and digital photography workshops. Inspiring conscientious creative interaction, his life's work is a call to connection with our natural world, with each other, and with ourselves.
John Paul has conducted three photographic workshops in Antarctica (2005, 2007, 2009). John Paul uses his photography there to raise awareness about the region, climate change, and the work of the real experts - scientists.
John Paul's work has been published widely. Reviews have appeared in numerous periodicals and books including Art News and The Ansel Adams Guide. Author of Adobe Photoshop Master Class (Adobe Press), and the DVD series R/Evolution, he is a contributing editor for Digital Photo Pro and Camera Arts and a columnist for Photoshop User, After Capture, and apple.com.
John Paul is a member of the Photoshop Hall of Fame, one of Canon's Explorers of Light, and an Epson Stylus Pro. His clients include Adobe, Apple, Canon, Colorbyte, Epson, X-Rite, Kodak, and Sony.
Learn more by visiting www.johnpaulcaponigro.com
Get over 100 lessons plus a free subscriptions to his enews Insights and Collectors Alert.