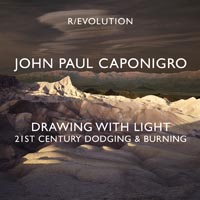 Drawing With Light - 21st Century Dodging & Burning
Take your images to a whole new level!
Enhance select areas of any image with extraordinary power and precision, giving you vastly expanded possibilities for creative expression.
These essential go-to techniques will help you master brushing, selections and masks; simple masks, gradient masks, luminance masks, contour masks and more.
Plus, learn to control the position and quality of every transition and edge.
In addition, you'll discover r/evolutionary new ways of capturing and enhancing light using the power of color's three essential elements - luminosity, hue, and saturation.
Drawing With Light; 21st Century Dodging & Burning will teach you all of these invaluable techniques and more.
You'll work faster.
You'll work smarter.
Your images will improve instantly!
Topics include ...  
1     Drawing Light    
       (47:03) Selectively enhance the three essential elements of color
2     Simple Selections and Masks    
        (13:06) Keep it simple and get the job done
3    Gradient Masks    
       (18:21) Use smooth gradations for continuous tone
4    Edge
       (4:32) Control the placement and hardness/softness of every edge   
5    Luminance Masks     
       (12:06) Quickly select highlights or shadows
6     Contour Masks   
       (5:46) Quickly define complex contours
7     Compositing Light    
       (7:00) Layer multiple exposures of varying light for new lighting effects
8     Drawing Techniques   
       (15:51) Make your brushing fast and precise brushing
Total Running Time (123:45)
These techniques can be used with all versions of Adobe Photoshop.
$69.95 with Free Shipping and Handling
Learn these techniques hands on in my Fine Art Digital Printing workshops.
Sign up for my free enews Insights to get prerelease discounts on new titles.