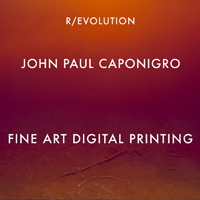 Fine Art Digital Printing
Choose wisely and get the very best digital print quality possible. 
Digital print quality is a product of a total solution - substrate, ink, printer, driver/RIP, profile, ink limit, print speed, viewing light, environment, and presentation.  
Learn what each component contributes to print quality and how they all work together to ensure your prints are as good as they can get. 
Topics covered include...
1    The Print        
       (4:55) What prints do like nothing else
2    R/Evolution      
       (10:15) Digital printing offers many paradigm shifts
3    Scale        
       (2:20) Size matters
4    Longevity        
       (7:00) How to ensure your prints last 
5    Make A Print       
       (4:30) What you need to do step-by-step
6    Total Solution       
        (7:05) Identifying all the contributing components 
7    Color Management & Proofing   
        (7:50) Get the best results constistently
8    Profiling        
        (2:47) What you need to know about printer profiles
9    Navigating Drivers / RIPs    
        (4:35) Using printer software correctly
10   B&W       
        (6:50) Black and white printing solutions
11   Substrate        
        (8:00) The materials you print
12   Ink         
        (9:20) What you put on a substrate 
13   Ink Limit        
        (5:20)How much you put on
14   Separation       
        (7:30) Understanding CMYK
15   Resolution      
       (8:50) What's ideal and how much you need
16   Output Sharpening      
        (10:15) Compensating for dot gain
17   Bronzing, Metamerism, Gloss Differential 
        (5:10) 3 things to watch for
18   Outgassing       
        (1:44) Drying time
19   Protective Coatings      
        (2:00) Sprays and varnishes
20   Outputting to Film      
        (5:55) Make new film for historic processes
21   How to Choose a Printer     
        (3:19) Choose the right features for you
22   Solving Common Challenges    
        (8:00) Simple solutions to common problems
$69.95 with free Shipping and Handling
Learn these techniques hands on in my FineWorkshops Art Digital Printing workshops.
Sign up for my free enews Insights to get prerelease discounts on new titles.