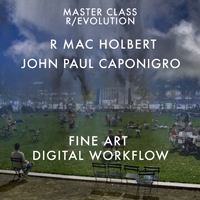 Fine Art Digital Workflow
Make sure you get the best quality from your files, every time with an optimal workflow. 
A Fine Art Workflow is different than a high productivity workflow. You should be able to choose either one. 
A Fine Art Workflow is precise. Process your files for optimum results.  
A Fine Art Workflow is fast. Standardization can lead to higher quality. 
A Fine Art Workflow is flexible. Know why and when to make exceptions.  
A Fine Art Workflow is modifiable / non-destructive. When your vision evolves your files should be able to evolve with you - easily. 
Learn all the ins and outs of a Fine Art Workflow in this content packed DVD. 
Topics covered include...
1    What's Workflow     
       A logical sequence of steps in production process
2    So Different, So Much in Common  
      Who we are
3    Why The Print Is Still So Important 
       It's what we make and use
4    A Sense of Destination    
       Look before you leap
5    File Structures     
       What a great file looks like
6    Preflight Checklist    
       Check your tools 
7    Frame A Destination    
       Identify possibilites and make choices
8    Non-Destructive Crop    
       Would you cut film with a pair of scissors ?
9    Minor Clean Up     
       Out spot! Out!
10   Foundational Issues     
       A great base makes future greatness possible
11   Major Retouching    
       Removing distractions
12   Global Color Adjustment    
       The big picture  
13   Regional and Local Adjustment  
       Important details
14   Creative Sharpening & Blurring  
       Customizing contour and texture
15   Resampling      
       Making files smaller or bigger
16   Output Sharpening     
       Compensating for dot gain
17   Softproofing & Proofing    
       Proof before you print
18    Output       
       Print it
19    Materials Matter     
       Why what you make prints with matters so much
And much more!
$69.95 with free Shipping and Handling
Learn these techniques hands on in my Fine Art Digital Printing workshops.
Sign up for my free enews Insights to get prerelease discounts on new titles.