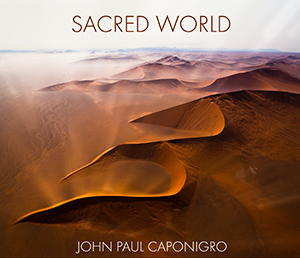 Sacred World
Sacred World collects the thoughts poets and politicians, philosophers and priests, scientists and mystics, throughout the ages, from a wide variety of cultures, all in agreement – the world we are a part of is miraculous. When this realization is deeply felt, a transformation of consciousness takes place and we think and act in different ways.
 
These messages of hope and inspiration are complemented by the breathtaking images of John Paul Caponigro. Collaborations with nature, his images function simultaneously as windows onto exterior landscapes and mirrors into interior landscapes, revealing how deeply involved we are in our experiences of the world and how deeply involved the world is in our experiences of ourselves.
 
A call to connection and to incite conscientious creative interaction – with ourselves, with each other, and with the larger world surrounding us – Sacred World is an inspiring reminder of the wonderful world that we come from, that sustains us, and that we return to. It highlights why we need every day to be an earth day. It's a celebration with a message of hope. We can live in a beautiful world in a beautiful way.
All levels
15 minutes