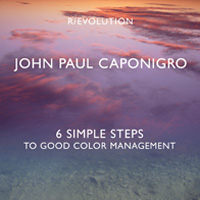 6 Simple Steps to Good Color Management
Get accurate color consistently in a minimum amount of time.
Take these six simple steps ...

1   Assign ICC profiles
2   Calibrate your monitor
3   Set ideal color management policies
4   Softproof
5   Navigate printer drivers correctly
6   Control your viewing environment.

You need to master these essential tools and skills to get the best color.
Along the way, you'll find many other interesting facts about color and color science.
All levels
1-2 hours