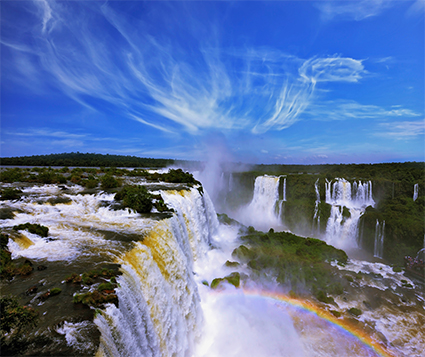 Brazil - Dunes & Falls
---
---
This is a Digital Photo Destinations workshop. Caponigro Arts & D-65 discounts do not apply.
TBA
9 Days / 8 Nights Price – $8,995
Single Supplement – $1,200
Limited to 14 participants
The Destinations
This amazing adventure is divided between two stunning Brazilian National Parks each defined by magical waters – Lencoise Maranhensis and Iguazu Falls.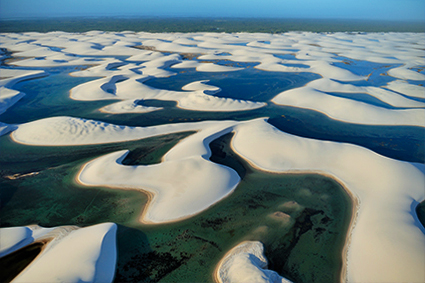 Lencoise Maranhenses
Lencoise Maranhensis is a little-known but vast dune field shaped by wind, ocean, and river currents. Composed of large, white, sweeping dunes, at first glance Lençóis Maranhenses looks like a desert, but it's not. Lying just outside the Amazon Basin, the region has a regular rainy season at the beginning of the year. The rains cause a peculiar phenomenon: fresh water collects in the valleys between sand dunes and is prevented from percolating down by a layer of impermeable rock underneath the sand. The result is a vast network of blue, green, and black lagoons surrounded by white sands and bordered by a river and an ocean. Now imagine the magical transformations in color it will undergo during sunrise and sunset. We'll explore these stunning dune fields and waterways extensively on foot, by 4 wheel drive, and by boat.
Airplane flights are optional.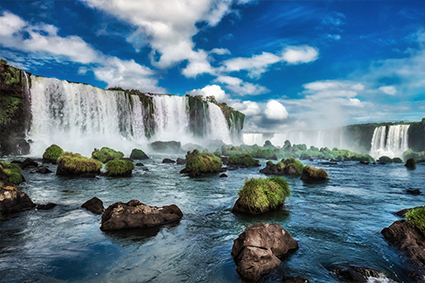 Iguazu Falls
Iguazu Falls are some of the world's most famous and extensive. Iguazu (Big Water) is located on the border of Brazil and Argentina where the Iguazu River tumbles over the edge of the Paraná Plateau. Numerous islands along the 2.7 km long edge divide the falls into many separate waterfalls and cataracts, varying between 60-82 m high. The number of these smaller waterfalls fluctuates from 150 to 300, depending on the current water level. The surrounding subtropical forests are overflowing with wildlife and home to more than 160 bird species. We'll explore the extensive walkways through the jungles and along the river's edge, ride speedboats to the Lower Falls, and take a rare Lunar Rainbow night walk.
Helicopter flight included.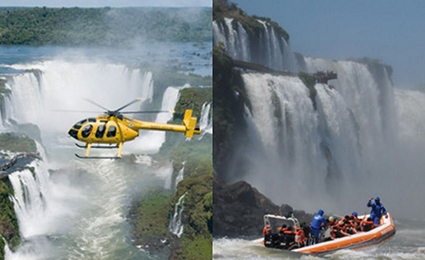 The Program
This is more than a photo tour, this is a workshop! This is a unique opportunity (for no more than 14 people, with a 1 to 7 participant/leader ratio) to visit one of the most amazing places on this planet led by world-renowned photographers – John Paul Caponigro and Seth Resnick. We'll shoot in the most beautiful places at the best times. Most importantly, we'll work closely with you to help you make the most of your personal adventure. We'll help you energize your creative life and find new depth for your artistic vision. You'll benefit tremendously from our guidance, advice, lectures, demonstrations and reviews. Creativity, composition, exposure, workflow, and post-processing are just a few of the topics presented. You'll learn a tremendous amount from us during one-on-one reviews and from the other participants during group reviews. Together we'll help you take your photography to the next level. It's world-class locations, world-class photographers, and world-class guidance.
Day 1 – Travel To Barreirinhas
am    Meet at São Luis airport
pm   Drive 4 hours to Barreirinhas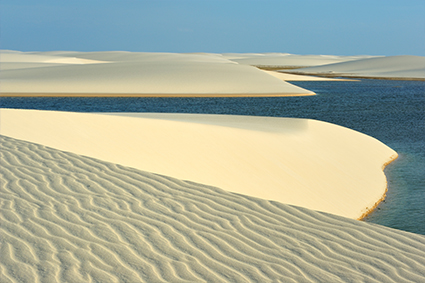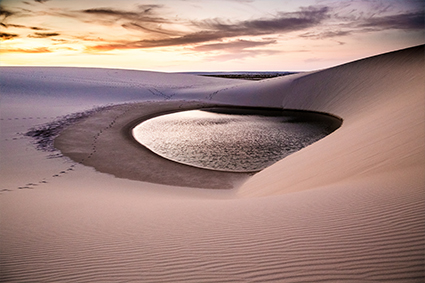 Day 2 – Blue & Beautiful Lagoons
am    Sunrise at Lagoa Azul (Blue Lagoon)
pm    Sunset at Lagoa Bonita (Beautiful Lagoon)
Day 3 – Preguicas River
am     Sunrise on the Preguiças River traveling to Atins Village (boat + 4×4)
pm     Lagoa Verde (Green Lagoon)
Day 4 – Preguicas River
am      Sunrise along the Preguiças River 
pm      Sunset along the Preguicas River
Day 5 – Beautiful Lagoon & Travel
am      Sunrise at Lagoa Bonita (Beautiful Lagoon)
pm      Drive 4 hours to São Luis and Fly to São Paulo
Day 6 – Iguazu Brazil
am      Fly to Foz de Iguaçu
pm      Exploring Iguazu – Brazil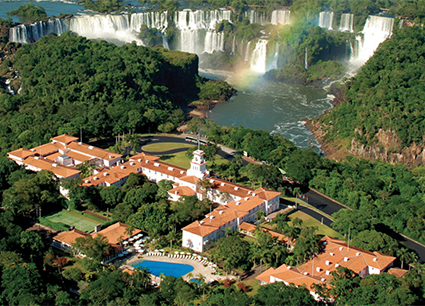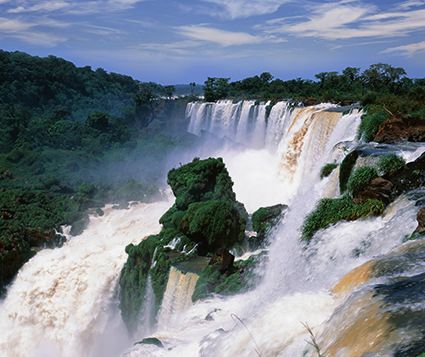 Day 7 – Iguazu Brazil
am      Exploring Iguazu – Brazil (Macuco Safari and Banana Trail)
pm      Speedboat to Lower Falls and Lunar Rainbow walking tour
Day 8 – Iguazu Argentina
am      Exploring Iguazu – Argentina
pm      Exploring Iguazu – Argentina
Day 9 – Iguazu Brazil & Travel
am      Exploring Iguazu – Brazil
pm      Fly to São Paulo
If this is your second DPD workshop, you're invited to join us for a special alumni day!
Join us on our fabulous adventure!