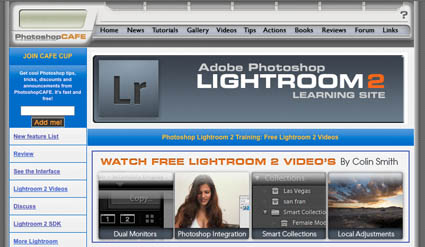 –
PhotoshopCafe offers a Lightroom 2 online Learning Center. Read an illustrated overview of new Lightroom 2 features. Watch four new free videos online – Dual Monitors, Photoshop Integration, Smart Collections, Local Adjustment and interviews with Tom Hogarty (Lightroom Senior Product Manager) and Frederick Johnson (Lightroom Senior Marketing Manager). It's excellent content. It's free!
Visit PhotoshopCafe's Lightroom 2 Learning Center here.
Seen it? Like it? Comment here!
Check out my DVDs here.
Check out my upcoming seminars here.
Learn Photoshop CS4 in my workshops.