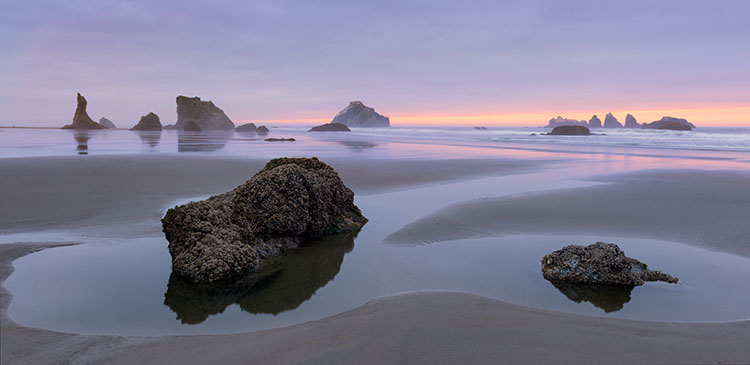 .
Oregon Coast Wonderland
June 11 – 16
$2,500
Space Is Limited
Destination
Join me along the stunning Oregon Islands National Wildlife Refuge & Wilderness Area between Brookings and Cannon Beach.
In this digital photography workshop, you'll discover the most dramatic locations on the Oregon coast. Moody seascapes, towering sea stacks, wild surf, long beaches (both sandy and rocky), tranquil coves, fog, sun, and sea breeze. These breathtaking natural wonders will breathe new life into you and your photography.
Vision
My workshops offer an unparalleled opportunity to develop your personal vision at exotic locations in a supportive community.
Our limited class size offers individual guidance while stimulating an active dialog among diverse participants.
Demonstrations, exercises, and feedback will help you grow your existing skills and talents, revealing new ways of seeing and thinking that will energize and strengthen your authentic creative voice. You'll leave more versatile, focused, and inspired.
Prepare to make the most of your workshop experience and continue developing long afterward with my online resources.
Space Is Limited
Grow your visual voice by developing a personal project.
Deepen your understanding of composition.
Learn image selection and sequencing strategies.
Discover your story and tell it your way.
Explore multi-shot techniques to overcome technical limitations and expand possibilities.
Learn post-processing tools that will enhance your distinctive style.
Let your vision guide you – composition, exposure, and processing.
..