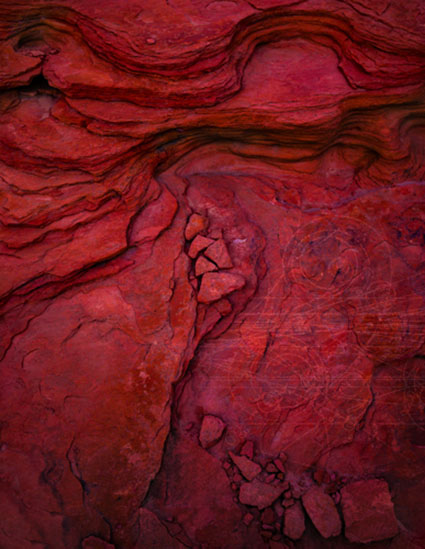 Alignment XXXVI
In all of my work, there's a strong sense of abstraction. I want the foundations of my images to be suggestive and expressive. I want to create images that give us an opportunity to simultaneously look out into the world and into ourselves. By never losing sight of the fact that we are looking at a flat image of a deep world, the illusions it creates, and the suspension of disbelief we enter into, we are reminded to look at ourselves looking. The psychic space created for greater awareness is the heart of my images.
I'm obsessed with the horizon and a majority of my images contain one, but not these images. In my virtual petroglyphs, I want to be drawn into an even more intimate space, physically and emotionally.
In this image, Alignment XXXVI, there's a strong correspondence between two kinds of flow: the flowing forms of the stone and the flowing lines of the petroglyph of subatomic particles scattering. Two qualities of space and time collide. One is a physical form that takes on abstract qualities when seen in a particular way; the other is an abstract image made by a particular way of seeing that takes on physical dimensions. These primordial patterns suggest an order of reality that we're unaccustomed to but which is essential to our understanding of the nature of the universe and ourselves.
Like the photograph rendered by the camera, the pattern this petroglyph renders is made with another special device made for looking more deeply into the universe. Bubble chambers work by filling a device with liquid heated to just below its boiling point. The entire chamber is subject to a constant magnetic field that causes charged particles entering it to travel in helical paths (whose radius is determined by their velocities and mass), around which the liquid vaporizes, forming microscopic bubbles. Bubble densities around tracks are proportional to a particle's energy loss. Bubbles grow in size as the chamber expands until they are large enough to be seen or photographed. The resolution of bubble chambers goes down to a few micrometers. Several cameras are mounted around it, allowing a three-dimensional image of an event to be captured. Invented in 1952, bubble chambers are outdated, but the images produced with them still shape our understanding of the structure of matter and the nature of the universe. In one sense, this is a photograph of a photograph. The marriage of two kinds of looking in one image highlights opportunities for looking in another way – inward with the mind's eye.
This is the only petroglyph rendered from a photograph. Other petroglyphs in this series extend our ways of seeing by reproducing diagrams of reality rendered from theory, patterns that we are currently incapable of capturing mechanically (the orbits of our solar system's planets, the shape of our Milky Way galaxy, the arrangement of starry super-clusters, etc.) but which we extrapolate from our composite understanding of the universe. The series zooms through our understanding of the universe, from the subatomic to the whole of the known universe, never losing sight of the fact that our understanding continually changes, expanding, and evolving, never more rapidly than today.
We create tools to extend our perception, like the camera. Each tool offers us one window into the universe. Of course, it's limited. It sees in one way. So what's been left out? And what are we missing? But it's still able to produce at least one piece of the puzzle. It's hard enough to use existing tools to learn to see in new ways. It's even harder to use existing tools (or create new tools) to see things you can't yet conceive of. But it's worth a try. I can assure you it's a rewarding process.
View the video on Alignment XXXVI here.
View the video on the series Alignment here.
Read more of The Stories Behind The Images here.