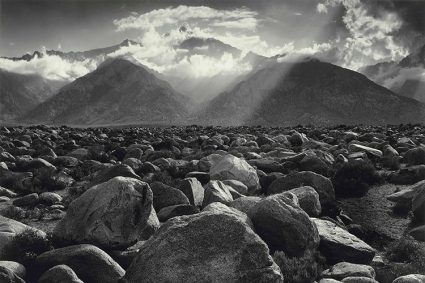 "Build a large visual library." is Howard Schatz's excellent recommendation for photographers at any stage of their journey. For decades, he has continued to do this himself well into a highly successful career, consuming images voraciously. While he haunts bookstores, he doesn't mean just buy a lot of books with pictures in them. He means to learn to see (more versatilely, contextually, and deeply) look at a lot of images.
What are some of the benefits of exposing yourself to more images?
1 You'll see more possibilities.
The amazing variety of images (subject, style, context) will inspire you to try some of the things you see.
2 You'll see more of what's been done.
Becoming familiar with a medium through its history, you'll see the sensibilities of eras, past fads, current trends, and enduring themes.
3 You'll develop a repertoire.
Identifying successful techniques (composition, exposure, development) that have been repeated by many different artists is the first step to incorporating some of them into your practice. 
4 You'll see what hasn't been done.
Once you know what's been done, you'll be able to imagine what hasn't been done and may fill that gap, either with a bit of twist or a giant leap.
5 You may even combine things that have been done into new combinations.
A little of this mixed with a little of that may become a new thing.
There are more benefits to exposing yourself to more images, but isn't this enough to get started? The principle is simple. If you look more, you'll see better. I recommend you make it your lifelong practice. It's a pure pleasure.