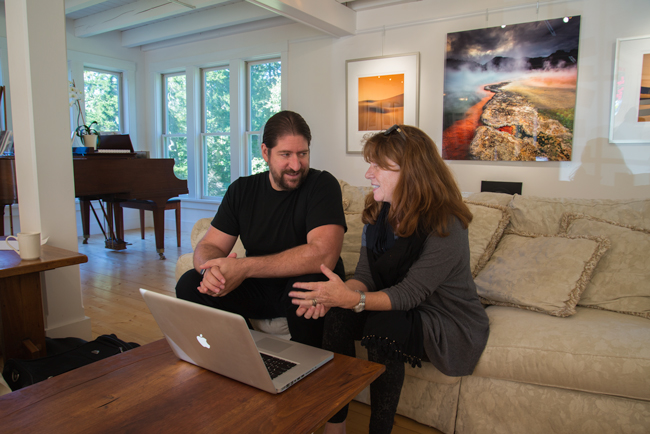 .
Mentor
–
For more than 25 years I've taught 1000's of people creativity and photography.
Some of those relationships have lasted years and even decades.
It's been tremendously inspiring to see their creative growth and a privilege to help them along their way.
–
My mentor program has taken many forms.
I've worked with people on …
Identifying Purpose & Setting Creative Goals
How To Find New Ideas
Developing Personal Vision & Style
Creating Signature Color Palettes
Creative Composition
Exposure, Processing, & Printing Technique
Visual Storytelling
Talking & Writing About Your Work
Assembling Exhibits
Making Books
Website Design
Branding & Marketing
Content and feedback is always customized for each individual because we all have different sensibilities, needs, and goals for our creative lives.
I highlight useful perceptual skills, emphasize individual vision, and place technique within the context of the history of art.
It's a unique approach because I am and you are too.
–
Here's what people who have studied with me say about working together.
–
"I have traveled, worked, and become friends with JP for over a decade. I keep coming back because he is the best.
I am drawn to his art, his intellect, and his enthusiastic ability to share his depth of knowledge. Our time together is a gift."
Sandy Chandler
"John Paul has been there for me on so many occasions, to feed my imagination, to coach me, and then to set me on my own path."
Michael J Quinn
"To go on a photographic journey with JP is to have a very unique experience."
April Hartford
"JP guides you through a country and to your true aesthetic.
He helps you see what you might have missed and to find different paths that lead you to different ways of seeing."
Jim Graham
"JP has taught me how to be a complete artist, true to myself while expanding my vision and creative voice."
Charlotte Rush Bailey
"I learned what it means to turn pro."
Ken Carl
"I learned from JP that to be a successful artist you have to be a creative business person too."
Shayne Lynn
"JP has taught me through his example that there is a way
to combine art, technology, business, and caring for individuals."
Doug Eng
"The best thing about working with John Paul as a mentor is his ability to meet you wherever you are in your photographic, artistic, creative, life journey and help you to develop to the next level(s). His vast array of knowledge, tools, and resources; from technical, to marketing, to creativity, are generously made available along the way.
What's different about working with John Paul is his holistic approach in helping you develop as a person, not just as a photographer or artist. He fully supports your creative vision and goals, whatever they may be, and if yours aren't fully formed, he will help you define and refine them.
I've worked with John Paul for 20 years now, from photoshop/technical workshops to international travel workshops. In each one, my work improved exponentially.  However, in the mentorship program, I was able to integrate my creative vision with my life's purpose – to appreciate my art in a mindful way and to develop ways to share it with others so that it inspires more mindfulness in theirs."
–
Explore the many successes of the members of my tribe.
–
Only a few mentorships are available each year.
–
Find out about Sandra Marill Chandler's new exhibit and book Salt.