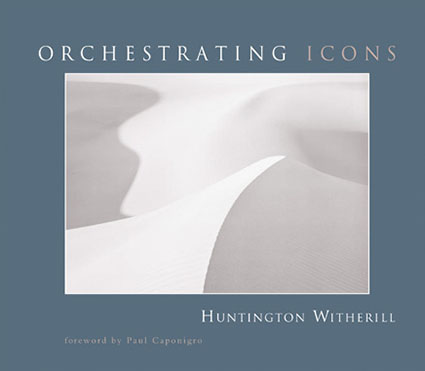 Huntington Witherill's Orchestrating Icons
Huntington Witherill celebrates twelve photographs by other photographers.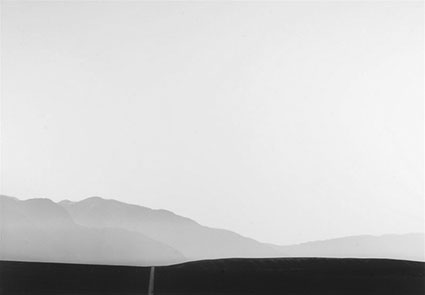 Al Weber, Road to Badwater, 1971
Al Weber's "Road to Badwater, 1971" demonstrates the effectiveness and power of design simplicity in depicting the immense spaces that characterize Death Valley. The overall sense of atmosphere and distance are communicated through but a few bold blocks of uniform tonal value, each of which help to define the photograph's unique character.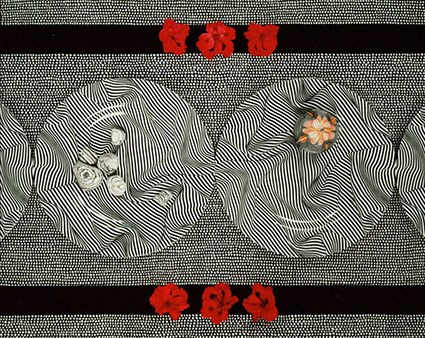 Don Worth, Pelargonium Blossoms, 1985
The visual strength of Don Worth's "Pelargonium Blossoms, 1985" lies within the tension that exists between the intricate textures and patterns, together with a juxtaposition of accent color placed against a largely monochromatic field. Each time I look at this photograph I am drawn into its hypnotic spell.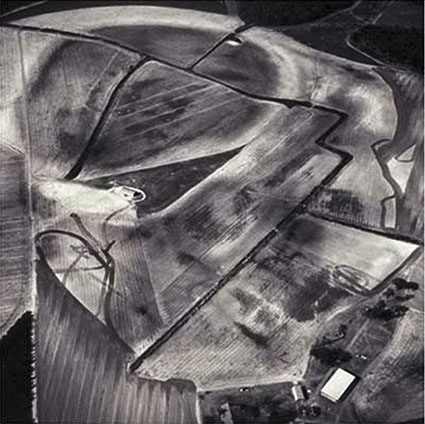 Emmett Gowin
Emmett Gowin's photographs from his series: "Changing the Earth" exhibit a remarkable juxtaposition of visual beauty in the midst of perceived destruction. It's not that the subject matter he has chosen to photograph is so often thought of as being of a more or less unseemly nature. It is that he has presented this particular subject – in its perceived negativity – with such an abundance of visual beauty and grace that he seduces the viewer into an irreconcilable dichotomy.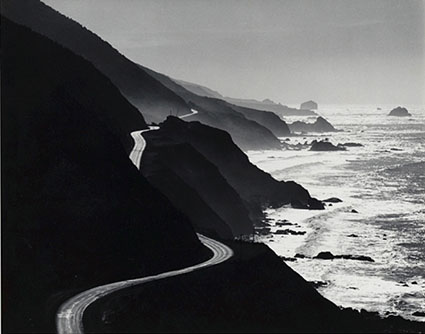 Henry Gilpin's, US Highway Route 1, 1965
Clearly one of the most iconic images of the Big Sur Coastline, Henry Gilpin's "US Highway Route 1, 1965" celebrates the wild and austere essence of the Big Sur Coast. The serpentine highway glowing white hot against the dark and foreboding shoreline cliffs projects a scene of exceptional strength and amplitude.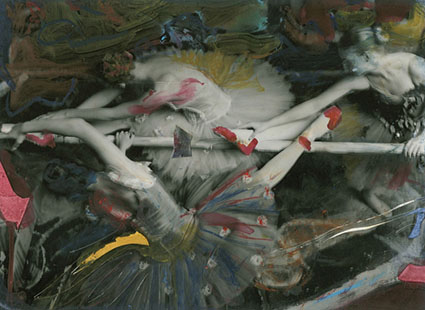 Kim Weston
Kim Weston's hand-painted photograph of ballerinas features a marvelous sense of movement and grace that is punctuated by the introduction of sparse color. The color, itself, seems to further abstract the image, thereby helping to focus the viewer's attention on the dynamic and symbiotic relationship between the figures, themselves.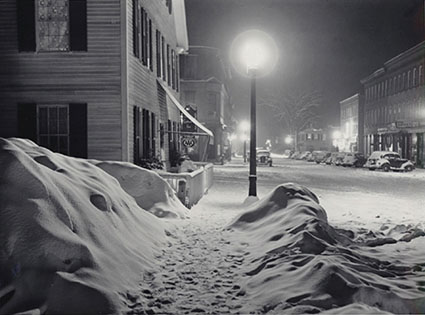 Marion Post Wolcott, Blizzard, Woodstock, VT, 1940
Marion Post Wolcott's "Blizzard, Woodstock, VT, 1940" portrays a quiet yet bitter cold winter evening. The glimmering street lights serve as an effective and warm counterpoint to what, otherwise, seems a penetratingly cold environment. This photograph makes me want to put on another coat!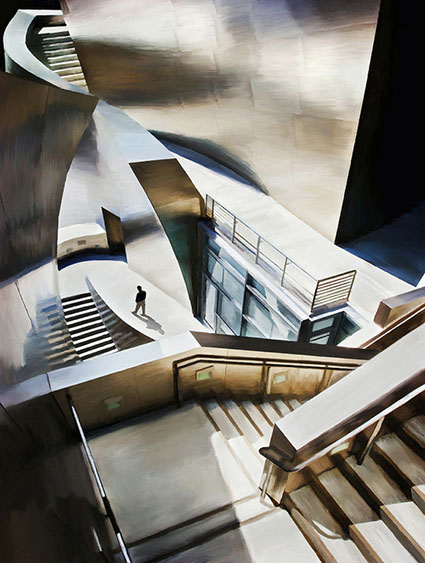 Mark Wainer, Stairway #60, Los Angeles
Suggestive of an M.C. Escher drawing, Mark Wainer's "Stairway #60, Los Angeles" evokes a whimsical maze of mystery and apprehension. Is the figure hoplessly trapped? Or, has he managed to find the hidden escape?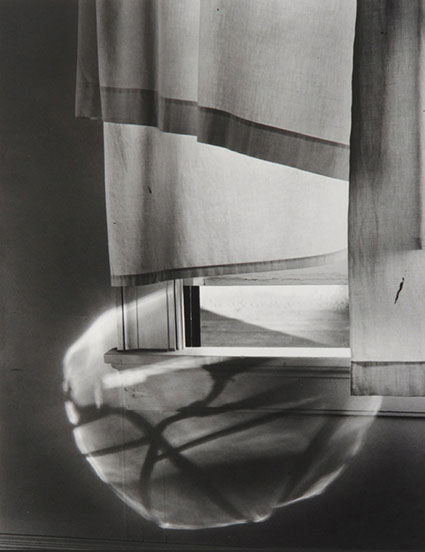 Minor White, Windowsill Daydreaming
Windowsill Daydreaming, by Minor White, is one of those quintessential photographs in which the light, itself, is the predominate subject. The seductive nature of the subject, in this case, is both highly mysterious, and positively alluring.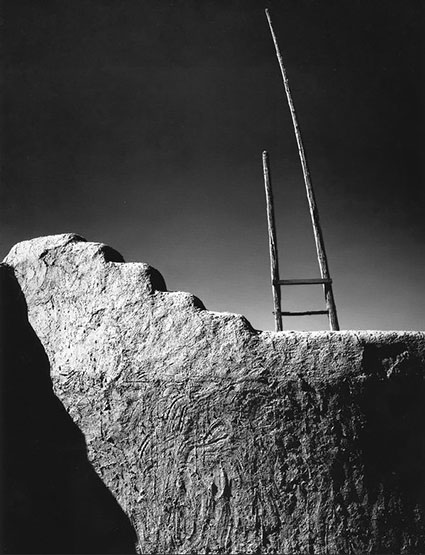 Morley Baer, Kiva Ladder, 1973
Morley Baer's "Kiva Ladder, 1973" appears as a graphically rich visual Icon symbolizing the American Southwest and its native cultures. The immense power of graphic simplicity, achieved through the exquisite and economical use of simple line and texture, help to contribute to the photograph's near universal appeal.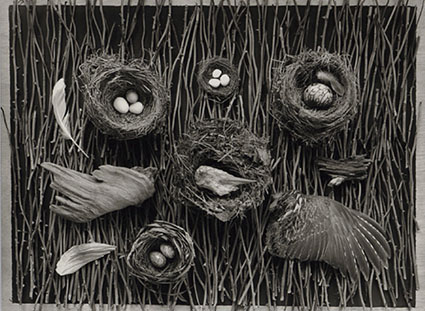 Paul Caponigro, Nascent Flight
The temptation to reach out and touch the surface of Paul Caponigro's "Nascent Flight" is quite strong. The overall combination of line, texture, and impeccable detail that comprise this complex yet visually concise still life projects a near miraculous display of inherent strength in the presence of underlying fragility.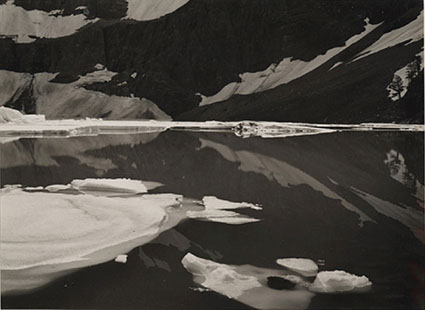 Philip Hyde, Iceberg Lake
Philip Hyde's "Iceberg Lake" demonstrates a marvelous sense of asymmetrical balance. While the ice forms seem randomly placed within the composition, the organization of forms within the overall frame are not only solidly connected, but also perfectly well balanced.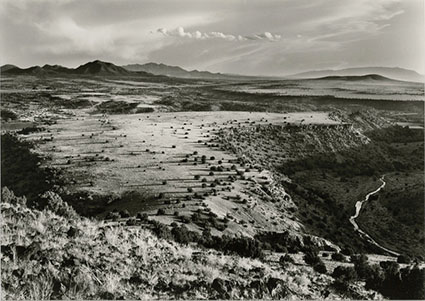 William Clift, La Mesita, New Mexico, 1978
William Clift's "La Mesita, New Mexico, 1978" portrays the open desert with uncommon elegance and aplomb. There is undeniable magic in the light that Clift has captured, here. And taken together with an exquisite sense of detail and overall delicacy, I am compelled to step into the frame and go exploring!
Learn more about Huntington Witherill here.
View 12 Great Photographs By Huntington Witherill here.
Read our Quick Q&A here.
View video with Huntington Witherill here.
Read our conversation with Huntington Witherill.
View more Photographers Celebrate Photography here.