Just Show Up – The Story Behind The Photograph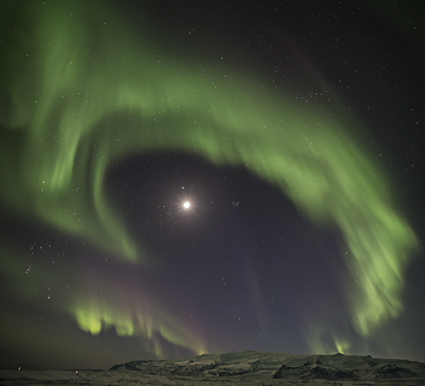 Illumination XXVI, Jokulsarlon, Iceland, 2012
Motion picture director Wood Allen famously remarked, "80% of success is just showing up." One wintry night at Iceland's glacial lagoon (Jokulsarlon) it seemed like all I had to do was show up. The heavens danced with aurora borealis' green fire for hours. Cascades of light appeared and disappeared dynamically illuminating the heavens with a light brighter than the stars and moon rising above the dormant volcano, icecap, glaciers, frozen lagoon, icebergs, black sand beaches, and crashing surf. The waves of radiation formed and reformed into shapes suggesting animals, birds, fish, flowers, and more. When there's fire in the heavens every moment is a magic moment.
You'll score if you just stay in the game and keep rolling the dice. The more you roll the dice the more likely it is that you'll score. The longer you stay in the game, the more you get to try your luck. You're lucky to be playing, and who knows you might just get luckier. Sometimes, all you have to do is be at the right place at the right time. Sometimes, it's that simple.
Questions
How frequently do you show up?
Are you selective about the places you show up?
Are you selective about the times you show up?
Find out more about this image here.
View more related images here.
Read more The Stories Behind The Images here.