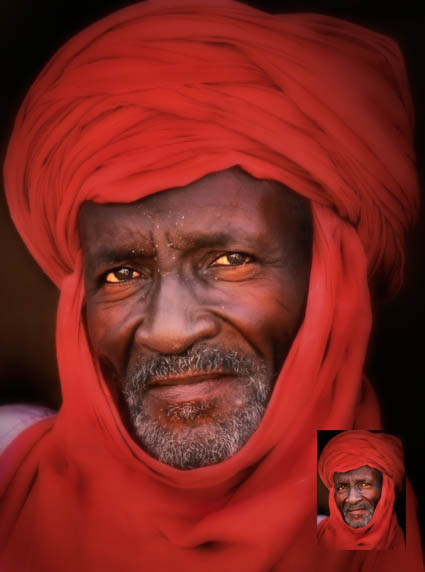 Charlotte Rush Bailey printed her African portraits at a variety of scales in a special session of my Fine Digital Print workshops this week. It took physically experiencing them with her own body to find out how they were working. She held them up to her face. When the portraits are larger than life they take on a more graphic quality evoking mass media presentations. When they're life size the representational quality of them is heightened. When they're small the intimate quality of them is emphasized. Scale had a big impact on her subject. Only certain subjects function this way. Making life-size or larger than life-sized representations of vistas (landscape, cityscape, seascape) is often impractical if not impossible.
To a limited degree you can preview scale by projecting an image before printing. But nothing is a substitute for actually experiencing the final print. In addition to evaluating technical aspects of a print, it's important to identify associative qualities as well. They can make a big difference.
Tell her what you think! Comment here!
Check out my Fine Digital Print workshops here.