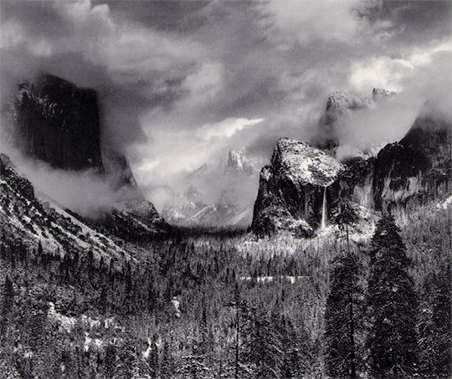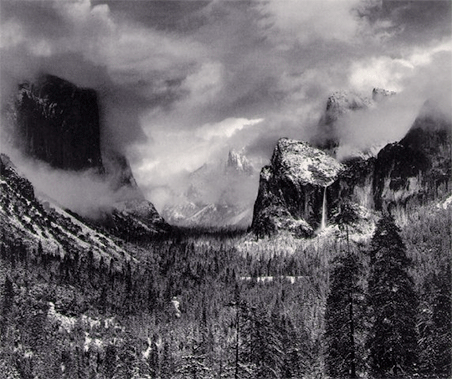 Ansel Adams' Clearing Winter Storm, 1944 is a particularly interesting photograph to me because of its complexity. It's a specific kind of complexity. Like many other complex images, it's made of a lot of separate elements but is still unified. Unlike many other complex images, it can be broken into many separate images, each complete compositions in themselves; four peaks in clouds, one vertical monolith in clouds, shadowed valley between monolith and peak, waterfall and peak, waterfall and two trees, etc. (Try finding as many separate compositions in this single image like this as you can.)
When you look at prints of Ansel Adams' Clearing Winter Storm many assumptions about the medium, the man, and his work are confirmed and challenged. It's neutral, perhaps even slightly cold in tone, which is appropriate for the subject. The tonal scale is high contrast and full scale, perhaps heavier than expected with very full highlights and it may be surprising that some shadow detail is not preserved. The large format original renders detail well, though there are traces of visible grain in light smooth areas. There's detail throughout the image (deep depth of field, sharp focus, full scale printing); when it was printed this may have been the sharpest image quality possible while today it looks classically smooth in comparison to new high resolution digitally sharpened images. At 16×20" it's a medium scale enlargement, not a contact, and could have been printed larger; that it wasn't is an interesting reflection on both the man and his times. Print quality becomes not only a window into the past of the subject but also into the medium, which this man above all others epitomized for his time.
(There's a lot to be learned from looking at originals, which is why we look at masterworks from my collection in all of my  digital printing workshops.)
Find my comments on other Masterworks In My Collection here.
Learn more in my digital printing workshops.