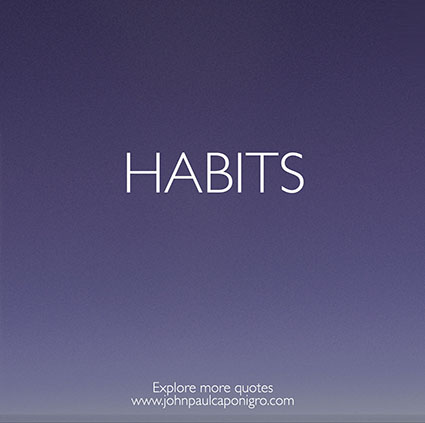 Enjoy this collection of quotes on habits.
.
"We become what we repeatedly do." ― Sean Covey
"Your beliefs become your thoughts,
Your thoughts become your words,
Your words become your actions,
Your actions become your habits,
Your habits become your values,
Your values become your destiny."
― Gandhi
"Sow a thought, and you reap an act;
Sow an act, and you reap a habit;
Sow a habit, and you reap a character;
Sow a character, and you reap a destiny."
― Samuel Smiles
"Habit is stronger than reason." – George Santayana
"The only way we could remember would be by constant re-reading, for knowledge unused tends to drop out of mind. Knowledge used does not need to be remembered; practice forms habits and habits make memory unnecessary. The rule is nothing; the application is everything." ― Henry Hazlitt
"Habit is a second nature that destroys the first. But what is nature? Why is habit not natural? I am very much afraid that nature itself is only a first habit, just as habit is a second nature." – Blaise Pascal
"We get into the habit of living before acquiring the habit of thinking. In that race which daily hastens us towards death, the body maintains its irreparable lead." – Albert Camus
"Get the habit of analysis – analysis will in time enable synthesis to become your habit of mind." – Frank Lloyd Wright
"The real key is to live in an environment where the mind feels free to choose the right thing instead of being compelled by habit and inertia to choose the wrong thing." – Deepak Chopra
"I insist on a lot of time being spent, almost every day, to just sit and think. That is very uncommon in American business. I read and think. So I do more reading and thinking, and make less impulse decisions than most people in business. I do it because I like this kind of life." ― Warren Buffett
"We will be more successful in all our endeavors if we can let go of the habit of running all the time, and take little pauses to relax and re-center ourselves. And we'll also have a lot more joy in living." – Thich Nhat Hanh
"Your little choices become habits that affect the bigger decisions you make in life." ― Elizabeth George
"Repetition of the same thought or physical action develops into a habit which, repeated frequently enough, becomes an automatic reflex." – Norman Vincent Peale
"The chains of habit are too weak to be felt until they are too strong to be broken." ― Samuel Johnson
"Habit is a cable; we weave a thread of it each day, and at last we cannot break it." – Horace Mann
"Good habits are worth being fanatical about." ― John Irving
"Habit is the intersection of knowledge (what to do), skill (how to do), and desire (want to do)." – Stephen R. Covey
"Practice isn't the thing you do once you're good. It's the thing you do that makes you good." – Malcolm Gladwell
"Habits change into character." – Ovid
"In essence, if we want to direct our lives, we must take control of our consistent actions.It's not what we do once in a while that shapes our lives, but what we do consistently." – Tony Robbins
"Success is the sum of small efforts repeated day in and day out." – Robert Collier
"Successful people are simply those with successful habits." – Brian Tracy
"Your net worth to the world is usually determined by what remains after your bad habits are subtracted from your good ones." – Benjamin Franklin
"All people are the same; only their habits differ." – Confucius
"Wouldn't it be great to be gifted? In fact… It turns out that choices lead to habits. Habits become talents. Talents are labeled gifts. You're not born this way, you get this way." – Seth Godin
"Successful people aren't born that way. They become successful by establishing the habit of doing things unsuccessful people don't like to do." ― William Makepeace Thackeray
"The difference between an amateur and a professional is in their habits. An amateur has amateur habits. A professional has professional habits. We can never free ourselves from habit. But we can replace bad habits with good ones." – Steven Pressfield
"If you are going to achieve excellence in big things, you develop the habit in little matters. Excellence is not an exception, it is a prevailing attitude." – Colin Powell
"Motivation is what gets you started. Habit is what keeps you going." – Jim Rohn
"Creativity is a habit, and the best creativity is the result of good work habits." – Twyla Tharp
"The creative habit is like a drug. The particular obsession changes, but the excitement, the thrill of your creation lasts." – Henry Moore
"If your habits don't line up with your dream, then you need to either change your habits or change your dream." – John Maxwell
"The secret to permanently breaking any bad habit is to love something greater than the habit." ―Bryant McGill
"You'll never change your life until you change something you do daily. The secret of your success is found in your daily routine." ―John C. Maxwell
"True realism consists in revealing the surprising things which habit keeps covered and prevents us from seeing." – Jean Cocteau
"Nothing so needs reforming as other people's habits." ― Mark Twain
"Without struggle, no progress and no result. Every breaking of habit produces a change in the machine." – George Gurdjieff
"Each year one vicious habit discarded, in time might make the worst of us good." – Benjamin Franklin
"A nail is driven out by another nail; habit is overcome by habit." ― Erasmus
"A habit cannot be tossed out the window; it must be coaxed down the stairs a step at a time." – Mark Twain
.
"Drop by drop is the water pot filled." – Buddha
.
Explore The Essential Collection Of Creativity Quotes here.
View The Essential Collection Of Creativity Videos here.
Discover more quotes in my social networks.
.