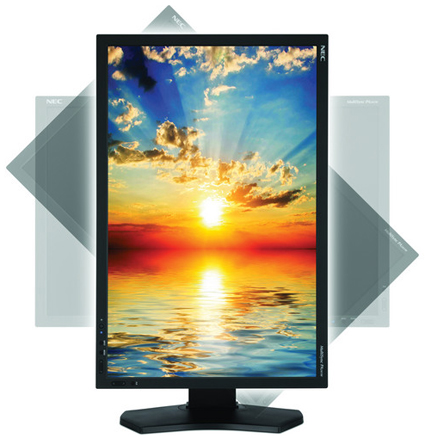 Get 12% off NEC monitors with this discount code JPCPHOTO.
10-bit GB-R LED backlit AH-IPS LCD
Internal 14-bit programmable 3D LUTs
Wide Gamut – 99.3% of AdobeRGB
High resolution
Easy on the eye flicker rate
Now with lower power consumption and heat output
Check out NEC's Spectraview pro monitors here.
Investing in a high quality monitor is one of the most important things we can do to ensure our digital files and prints achieve the highest quality. Visual artists who don't invest in a great monitor are like audiophiles who don't invest in good speakers. The monitor is what we look at; the speaker are what they listen to.
NEC's Spectraview monitors are among the monitors that achieve the widest gamuts available today, making it possible to see more of the color contained in your digital files and more accurately represent the saturated colors that are printable with today's fast-evolving digital printing media.
Simulating print brightness and contrast with monitors has always been one of the most challenging tasks. NEC's unique combination of hardware and software solutions are the most sophisticated solutions available for setting monitor white, far exceeding the accuracy of the vast majority of other LCD monitor's too bright results. As a result, predictions of print quality are significantly more accurate, saving time and media. Use NEC's Spectraview / MultiProfiler software for best results. It calibrates the monitor's LUTs and loads ICC profiles directly into the monitor for optimal color space matching.
Read what other top pros are saying about NEC monitors here.
Learn more about the tools I use here.
See them in action in my digital photography and digital printing workshops.