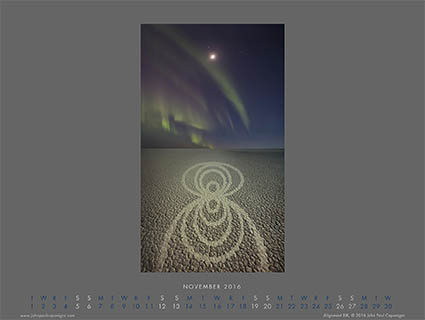 My free October Desktop Calendar features an image from Death Valley, California.
Download your free copy here.
Find out more about this image here.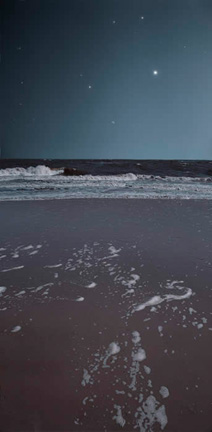 I've always been fascinated by photographs of the night sky. Telescopes are able to bring back details I could never have seen with the naked eye. Film exaggerates the colors of the stars, which are faint to the human eye. The lens often eliminates the tiny flares we see. When we draw stars, we don't use circles, we usually use pentagrams. There's a reason. I can understand that the twinkle and shimmer of the tapestries above would disappear in a photograph. Time is frozen in photographs. But that the photograph would be significantly different than what the human eye sees is fascinating to me. We're taught to think that the camera records things as we see them. It does to a degree. But there are many points of divergence. It's almost standard for us to defer to the photograph over our own experience. That's something I'm wary of — or let's say instead, acutely aware of …
Read more here.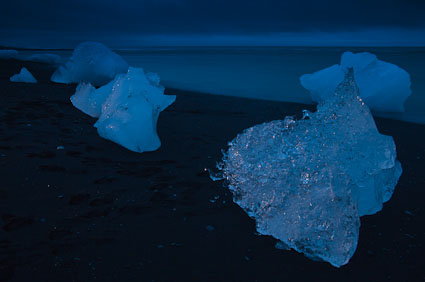 1 Without strobes.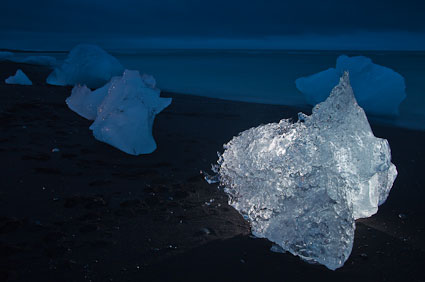 2 With strobes.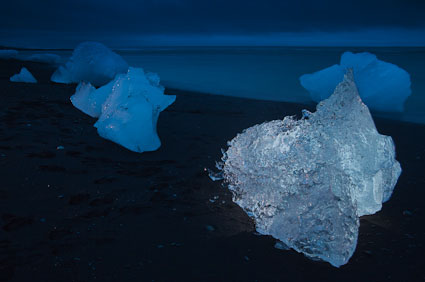 3 Exposures with and without strobes layered together.
I've always wanted to know more about artificial lighting. I figured I might use it in studio. I never figured I'd use it on location. That changed when Raganar th Sigurdsson (Arctic Images) broke out his strobes at midnight at Iceland's Jokullsarlon glacial lagoon. Using strobes and flashlights, we were working light in a very direct way. As a result, I started thinking about light in new ways. Now I'm sure I will use strobes on location. It's going to take more experimentation for me to know when. I recommend you experiment with light in your photography too. At the very least, your experiments will lead to an increased appreciation of it.
Check out Focus on Nature workshops.
Get priority status in my 2010 Iceland workshop.
Email info@johnpaulcaponigro.com.