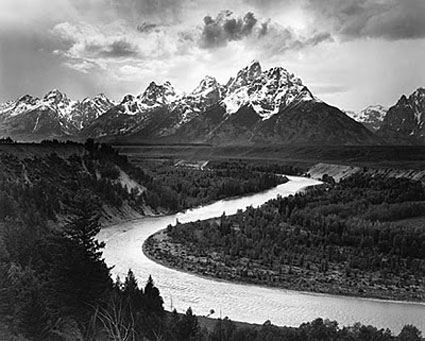 I highly recommend you look at original masterworks – frequently.
While looking at works in reproduction often provide many wonderful insights, nothing but the original provides the full experience. Looking at masterworks helps you understand what's possible, demonstrates how materials enhance expression, and provides a fuller, clearer, deeper window into the intentions of artists' works.
Without looking at original, you might understand that Ansel Adams had unparalleled technical mastery of black-and-white silver gelatin printing, but would you also understand that he was a transcendentalist of light and that his use of light was quite different than Edward Steichen's?
Without looking at originals, you might understand that Richard Avedon's work was clearly seen and sharply focused, but would you also understand that the detail in his portraits become a statement about human relationships / human nature and that his use of detail is quite different than William Henry Jackson's?
Without looking at originals, you might understand that size is often connected with price in Andreas Gursky's work, but would you also understand how important it is for you to experience the field of view filling spaces in his work as immersive and that his use of scale is quite different than Andy Warhol's?
If you don't look at original works of art, you may miss a lot.
Keith Carter thinks of his graduate studies as being comprised of long sessions looking at original master works. As a young man, he saved enough money to make the trip to New York City and spend days in the collections of the finest museums in the world looking at some of the finest photographs in the history of the medium. He called ahead to make an appointment with each of the museums to see specific prints in their private viewing rooms. (Many people don't know they can do that.)
Looking at original masterworks is both inspiring and enlightening. I've been very fortunate to be able to look at masterworks in my home all my life and I seek out opportunities to see more whenever possible. I recommend you do too.
(There's a lot to be learned from looking at originals, which is why we look at masterworks from my collection in all of my  digital printing workshops.)
Find my comments on other Masterworks In My Collection here.
Learn more in my digital printing workshops.