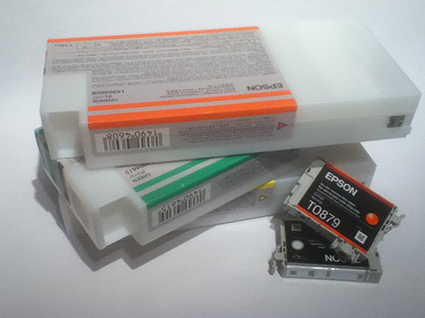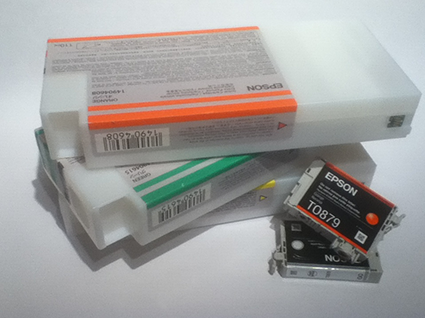 Be more green!
You can make a difference today!
Make many small changes to make one big change!
And you'll save a lot!
Take action now!
Here's one idea
Recycle Printer Cartridges   
Here in our Cushing, Maine studio we use many printer cartridges. With numerous photographic printers and many students, our prevalent use of ink can at times be mind boggling.  With numbers ranging from 375 to 700 million printer ink cartridges consumed yearly in the United States, we know we are not alone.
That's roughly 960 cartridges being disposed of every minute.  Most of these printer cartridges end up on landfill sites leaking toxic ink into the environment and taking between 450-1000 years to decompose.
With about three ounces of petroleum used to manufacture each printer cartridge, the total combined energy usage can be as much as 3 quarts of oil per-cartridge to produce the final product.
The good news is that most cartridges can be reused an average of 5-7 times by refilling and approximately 97 percent of the plastic and metal that make up these cartridges can be recycled.  That said, latest statistics show that only about 30 percent of cartridges are recycled world wide.
There are many ways you can recycle your ink cartridges.
Many non-profits like The Smile Train and United Way have set up recycling programs to collect funds for their cause.  This makes it very easy to support your favorite charity and help the environment at the same time!
Many school organizations have found that this is an un-challenging and effective way to fundraise while teaching the students the benefits of recycling.
Major printer ink retailers have programs in place to recycle cartridges. For years now, Staples has been recycling ink cartridges and giving back Staples Rewards money for all brands of ink and toner.
If your need is to simply dispose of your used cartridges, why not recycle back thru the manufacturer? All major printer manufacturers have their own recycling programs.  You can find the instructions for these programs inside the cartridge box.
Back at our studio we do recycle.  We load up a cardboard box and send it off to the local owner of a horse farm.  She collects cartridges to feed her horses who in turn supply clean manure for gardens.
Now that's recycling!
Find more resources that will help you take action now here.
Find environmental organizations to support here.