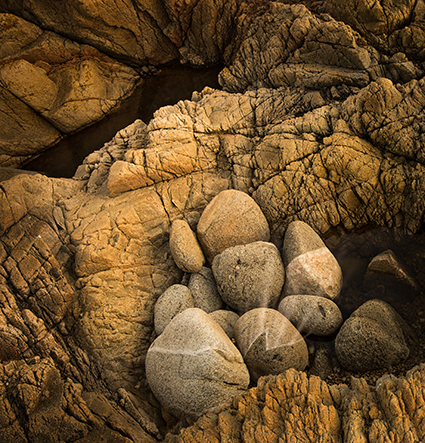 Illumination XXXI, 2014
It was one of my best sessions.
I had come prepared.
I knew the location well. My father first brought me to the Point Lobos region when I was very young. Later, during my college years, I spent more time exploring the coast. Long after that, I visited many more times, including several visits to prepare for leading workshops where you have to orient yourself more objectively. This was one of those times.
I knew the subject well photographically. Photographing in the region had a long history and I knew the images and their creators, often first-hand. Adams, Bullock, Caponigro, Sexton, Weston(s), White, Witherill, Uelsmann (and so many others) – they'd all made images there. I'd revisited them all to prepare for this session.  I knew that if I made successful images, that it was inevitable that some comparison to other works would be made. I knew that their images had influenced my vision and that I needed to more fully digest that influence to be free enough to make my own images, in my own ways, and on my own terms. And, I'd failed many times before.
I knew how to work the situation well. I came before the light was best and stayed sometime after it had passed. I didn't make just one image; I made many. I surveyed a variety of aspects of the subject; planes, peaks, valleys, boulders, grottos, cracks, pools, waterline, etc. I framed each composition deliberately, then asked how it could be improved, and made that image too.
I knew myself well. I'd taken stock of my history, my vision, my themes, my style, and my goals. My natural tendencies resurfaced; I approached the land as if it were a human body. Long-standing themes reemerged; birth, death, and rebirth. I was aware of what I was bringing to the table – personally.
I also knew that, despite all this preparation, this would become a purely intellectual affair if I didn't respond associatively and emotionally. So I let this all well up, holding nothing back – and I was surprised by what I discovered.
Old memories resurfaced, specifically of my first wife, who I used to visit these places with and who died of cancer when our son was very young, leaving a great deal unresolved. Then more memories surfaced of the decision not to have children with my second wife, a cancer survivor, because of health concerns. And here I was turning stones into wombs. I was emotionally present, raw even – and moving forward. I kept this inner dialog alive as I continued to make images. I had to answer this call to greater depth. Doing this work and making these images had become extremely personal.
Perhaps the images from this session are not my very best pictures, but it was one of my very best performances. It became a milestone for me. It had exceptional intensity and depth. That's a level I now try to get to more consistently – or exceed. And I know what it takes.
It's wonderful to see someone bring their A game. It can even help you find your own. But, your A game may be very different than someone else's A game. To know what your A game is, you first have to get there. Once you know what's possible, what it feels like, and what it takes to get there – you can bring it.
Questions
What performance would you identify as your best performance to date?
How would you describe your best performance to date?
What criteria do you use to evaluate your performance?
What areas are you concentrating on to improve your performance?
What steps are you taking to improve your performance?
When is it useful to separate your evaluation of performance from results?
View more related images here.
Read more The Stories Behind The Images here.