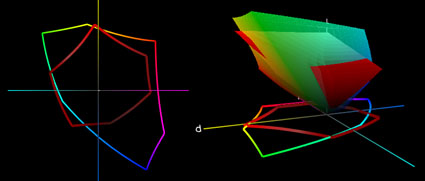 The image above graphs Blurb's ICC profile inside sRGB.
Graph Blurb's new ICC profile and you'll find something interesting. Blurb's printers exceed SWOP (standard web offset presses) and they exceed sRGB in cool blues and yellows. What this means is you'll get the most saturated color if you convert your Adobe RGB 1998 or ProPhoto RGB files into the Blurb color space rather than into sRGB. (Note you won't get this is you convert sRGB files to the Blurb color space because you've permanently lost some saturation by going to sRGB first.)
The image below graphs SWOP inside Blurb's ICC profile.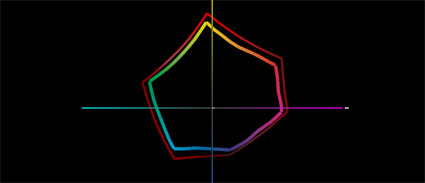 Find my Blurb book Antarctica here.
Catch my Blurb seminar at Palm Springs Photo Festival – March 31.
Learn more in my Fine Art Digital Printing Workshops.