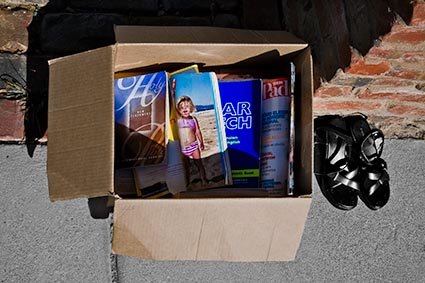 Last night presenters at the Epson Print Academy (Caponigro, Gorman, Holbert, Resnicki, Schewe) attended a gallery opening in downtown Seattle at the Benham Gallery showcasing images by members of their own ranks – Mac Holbert and Dan Steinhardt. Also on display were works by Robert Wade and Esther Sirotnik. Also in attendance was permanence expert Henry Wilhelm. Not surprisingly, the gallery talk quickly moved from early inspirations to a spirited discussion of process and permanence. "Giclee is meaningless!" "Archival is meaningless and no longer used by the ISO!" "C prints are no longer considered for collection by the Getty! They fade too fast!" "Color is now permanent!" You've got to see and hear it to believe it. What's worse than being in a room with an expert? Being in a room with ten experts. Seriously though, it's always interesting.
Mac Holbert described what it was like to leverage his 18 years of experience printing other people's work when printing his own work several years ago for his first exhibit and more recently for this follow up. Dan Steinhardt also made interesting comments about why he chose to ask Mac Holbert to print for him. After a lifetime in photography, first as a photographer, then as a marketing expert for both Kodak and Epson, and recently in the last 5 years becoming more active in making his own images, he still decided to have an expert make the finest possible prints from his images. It's an interesting decision that every photographer faces. Do you make your own prints? Do you have the time and knowledge base to do this? Or do you enlist master printmakers to make prints for you – a time honored tradition both within and without photography. Do you have the financial resources to enlist them and are you willing to engage in a collaborative process? There's no right answer. It's an individual decision. And you may make different decisions at for different projects and at different times in your life.
Mac also shared a story about his work. In the image above, he saw the Bible and the little girl when he made the exposure. But he didn't see the ironic 666 written on the box in pencil until he made the print. So often, new things come to light when you make prints of your images.
The exhibit Placement of Place is on display from January 7 to February 14.
Find out more about Mac Holbert here.
Find out about the Benham Gallery here.
Improve your printing skills at the Epson Print Academy.
Learn to make master prints in my workshops.