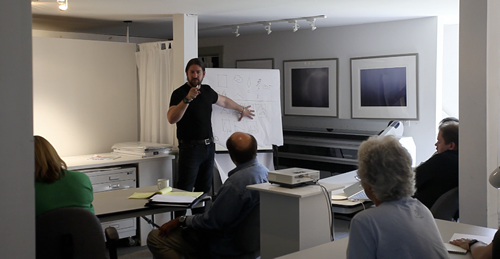 Each workshop we ask our students and our visiting professionals what they think worked well throughout their time with us. Here is a sampling of what some of them had to say during the course of our recent programs.
"John Paul is the best teacher I've ever had – and I studied with Richard Feynman."
– Steve Scheele
"John Paul is hands down one of the best creative and technical communicators of our generation."
–Michael McLaughlin, commercial photographer, Ireland.
"For me, the only joy greater than taking a picture, is seeing that image printed to it's highest form… the photograph. When asked by colleagues and students who I turn to for advice, technique or guidance on printing, there's only one person I recommend and that is John Paul Caponigro. JP is to digital inkjet printing what his father is to traditional silver gelatin printing… a true master craftsman and artist."
– Arthur Meyerson, award winning commercial and fine art photographer.
"As with any endeavor, the first 80% is relatively easy; it's the last elusive 20% that makes all the difference. I wanted to learn the
"secret" to attaining the highest possible level of quality in my digital printing, so I enrolled in "The Fine Art of Digital Printing," the only workshop personally taught by the two pioneers in the field. Both Mac Holbert and John Paul Caponigro have been recognized as the premier innovators and masters of the medium since its inception.
Mac Holbert essentially invented the medium of digital printmaking as a fine art, using the predictable and repeatable nature of graphic arts prepress tools available at the time and bending them to his will. With great finesse and efficiency he continues to produce digitally-generated prints of unparalleled quality. John Paul Caponigro has not only been a pioneer in the use of digital technology to create and print his own fine art images, but is perhaps the leading educator in the field as well, lecturing, teaching classes, and writing extensively on the subject.
Together, Mac and John Paul cover all aspects of fine art digital printmaking in a logical, easily understood format. They generously share their time-tested techniques, sure-fire shortcuts and invaluable personal observations while patiently demystifying the process of digital printmaking at its highest level. Yet they never lose sight of the ultimate goal: to realize the vision of the artist. The image remains paramount. So in the end, there are really only two reasons to take the Fine Art of Digital Printing workshop – R Mac Holbert and John Paul Caponigro."
– Gregory Heisler , multi-award winning portrait photographer, prepared a large scale commission during the week.
"Rarely, if ever do you get the opportunity to have a teacher show you something that changes the way think and create. Even rarer is when lightening strikes twice. I have never had workshop experience effect me and my work as profoundly as the workshop taught by John Paul Caponigro and Mac Holbert. I thought I knew what I was doing when I attended the first day, I walk out at the end of the week knowing more than I thought possible. Let me put it another way…. If you pass on this opportunity to learn from these two master artists then you're just a big silly."
– Vincent Versace, Photoshop guru and Acme Educational DVD entrepreneur, assisted during both 2007 workshops.
"For those hoping to take their digital print making skills to the cutting edge and beyond, look no further than the FADP workshops offered by John Paul Caponigro and Mac Holbert the "dream team" of digital photography. It would be difficult to imagine a duo better suited to slash through today's briar patch of confused and conflicting approaches to fine art printing than Mac and John Paul, but hold on to your hats, with these two, the classroom experience is very much like drinking from a fire hose of vital information."
– Chris Noble, internationally renowned adventure/travel photographer worked on an important new project on Rwanda, in collaboration with author Terry Tempest Williams.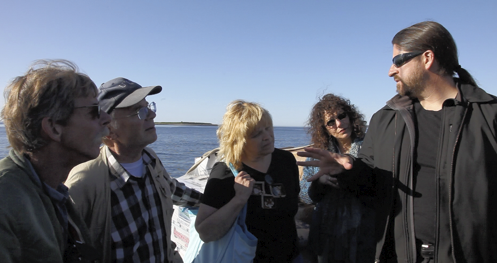 "This is a workshop that really does not need improving. It is superb – among the best instruction I have ever received in anythingin my life."
– Matthew Belge, Massachusetts
"[JP asks] the questions that lead to answers."
– Ken Carl, Illinois
"JP's discussion on landscape styles and follow up in the field, crystallized for me my understanding of what makes a well structured (landscape) photo."
– Ed Bacon, Pennsylvania
"The variety and building of exercises was great. (JP) created a great foundation to start to understand how to see!"
– Daniel Gregory, Washington
"This workshop was an eye opening 'deep dive' into the creative process that provides a foundation for ongoing creative inquiry. The tremendous range of ideas will apply to my work long into the future."
– Tina Elkins, Ohio
"I thoroughly enjoyed the workshop, especially the free flow of information. There was nothing pedantic about the structure, just an open atmosphere conducive to the learning experience."
– Walter Smith, Alabama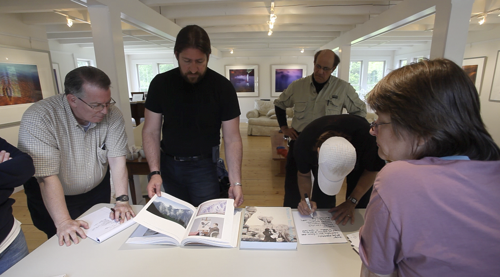 "John Paul… showed me the way…how to see, how to plan and how to get results!"
– Steve Lumpkin, Kansas
"This has been the most professional workshop facility I have ever attended!"
– Marc Koegel, Vancouver
"It made me think in new directions I didn't expect. These are the 'right' directions, and I'm very grateful."
– Daniel Oppenheim, New Hampshire
"Life changing experience! I am so grateful…to have had this experience of learning, camaraderie, and self discovery."
– Jerry Wyman, California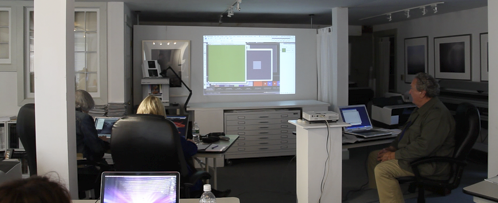 "JP's Artistic sensibility as it applies to Photoshop is unique and unparalleled!"
– Linda Sandow, New York
"Great theory and practical hands-on work make for a valuable in-depth program. The course increased my confidence and competence."
– Sam Krisch, Virginia
"The material was presented in a manner that was so easy to understand, and… the supporting materials re-enforced what (I) learned."
– Ellen Slotnick, Massachusetts
"John Paul presents and demystifies the software making it a more pervasive tool."
– Joanne Cody, New Hampshire