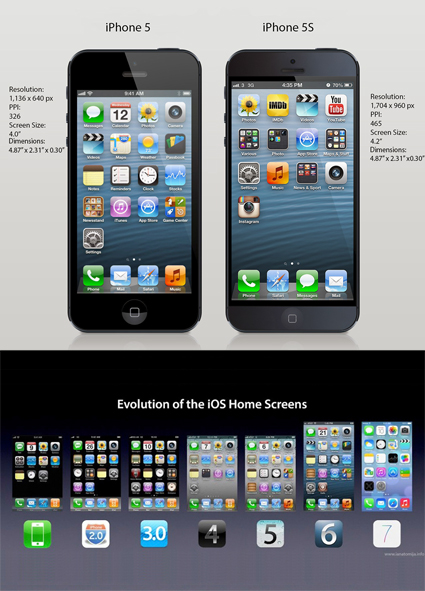 Apple recently shipped new iPhones (5S and 5C) and a new mobile operating system (iOS7).
If you're an "iphonographer" should you upgrade? If you're using the iPhone 5, for most it's probably not a big enough upgrade (lower noise, new lens, new flash) to justify the cost. If you're using an earlier model it is a good time to upgrade (and you'll want the 5s); you'll get substantially better capture quality.
Whether you upgrade your iPhone or not your photography will benefit from upgrading to iOS7 with its 200 new features and improvements.
Here's a roundup of useful resources for iPhone 5S and iOS7 to help you make the transition. 
Apple Sells 9,000,000 New iPhones In 3 Days
iPhone 5S Review – Terry White
iPhone 5S Camera Improves Photo-Taking Experience
iOS7 Compatibility Chart – Which Features Will Your iPhone/iPad Get?
19 Tips You'll Need To Master iOS7
The 16 Best Things About iOS7
The 11 Worst Things About iOS7
3 Ways That iOS7 Will Spark A Boom In App Design
Find more iPhone photography resources here.