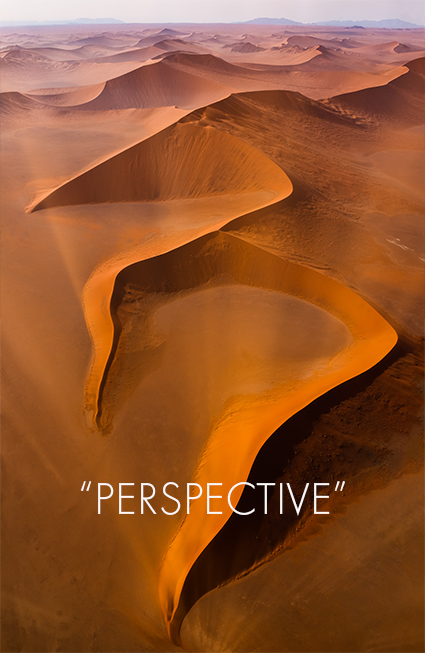 Here's a selection of my favorite quotes on perspective.
"A little perspective, like a little humor, goes a long way." – Allen Klein
"Perspective is worth 80 IQ points." – Alan Kay
"Everything we hear is an opinion, not a fact. Everything we see is a perspective, not the truth." – Marcus Aurelius
"Our loyalties must transcend our race, our tribe, our class, and our nation; and this means we must develop a world perspective." – Martin Luther King, Jr.
"Never write about a place until you're away from it, because that gives you perspective" – Ernest Hemingway
"In the perspective of every person lies a lens through which we may better understand ourselves." – Ellen J. Langer
"Never solve a problem from its original perspective." – Charles Thompson
"Reality is a question of perspective; the further you get from the past, the more concrete and plausible it seems – but as you approach the present, it inevitably seems incredible." – Salman Rushdie
"The trick to forgetting the big picture is to look at everything close up." ― Chuck Palahniuk
"Always focus on the front windshield and not the review mirror." ― Colin Powell
"I never saw an ugly thing in my life: for let the form of an object be what it may – light, shade, and perspective will always make it beautiful" – John Constable
"I believe everyone should have a broad picture of how the universe operates and our place in it. It is a basic human desire. And it also puts our worries in perspective." – Stephen Hawking
"Humans have the ability to shift perspective. We can experience the world through our senses. Or we can remove ourselves from our senses and experience the world even less directly. We can think about our life, rather than thinking in our life." – John J. Emerick
"No perspective, no perception. / New perspective, new perception." ― Toba Beta
"What I need is perspective. The illusion of depth, created by a frame, the arrangement of shapes on a flat surface. Perspective is necessary. Otherwise there are only two dimensions. Otherwise you live with your face squashed up against a wall, everything a huge foreground, of details, close-ups, hairs, the weave of the bedsheet, the molecules of the face. Your own skin like a map, a diagram of futility, crisscrossed with tiny roads that lead nowhere. Otherwise you live in the moment. which is not where I want to be." ― Margaret Atwood
"Winners have the ability to step back from the canvas of their lives like an artist gaining perspective. They make their lives a work of art / an individual masterpiece." – Denis Waitley
Find more creativity quotes here.
Read more quotes daily on Twitter and Facebook.