Contact Sheet – Atacama Desert, Argentina 2013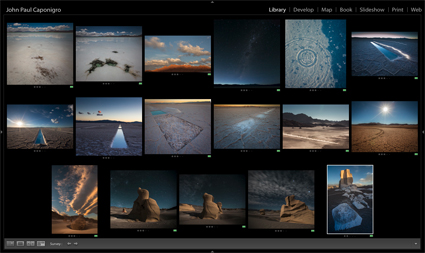 I recently returned from my second exploration of the Atacama Desert in Argentina. In a contact sheet of new images, rather than seeing locations (Pumice Stone Fields, Dead Man's Salt Flat, Red Labyrinth, Tolar Grande, Salinas Grandes), I see ideas I'm developing and patterns of thought. My first impression is that I probably won't release most of these images, and perhaps only one or two as is, but the bottom row clearly indicates where I want to go with this material. Theses images are all fine images, but have I truly made them my own? Not yet. How would I do this? First, create a context (series or body of work) for them. Second, enhance them further, in some cases using special effects and compositing.
View my Atacama Desert 2012 Contact Sheet here.
See finished images here.
Stay tuned for a preview of my finished images from the Atacama Desert.
Learn more in my digital photography and digital printing workshops.