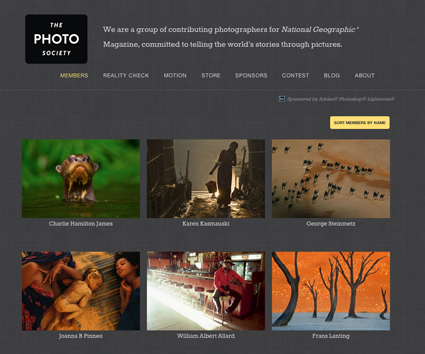 Check out The Photo Society. You'll get lost in fantastic photography by top photographers. Who are they?
"We are a group of contributing photographers for National Geographic Magazine, committed to telling the world's stories through pictures."
"Explaining the diversity of this group is the easiest way to answer the question, "How do I become a National Geographic photographer?" I usually answer this question by saying: 'It is not easy or glamorous (see Reality Check). And this is not where you begin your career. You are competing with world-class documentary photographers and within that genre there are men and women who are the absolute best at their specialty. There are a number of specialists — underwater photographers with different skills — one works in very deep water; a couple photograph at all depths and temperatures; one dives in caves, another holds his breath under whales; and then there is a guy who just works in puddles. One photographer travels all over the world to strap a big fan on his back to shoot aerials. There is a bug guy, an archeology specialist, and a number of folks that photograph critters. There are climbers, conflict photographers, portrait photographers and landscape specialists.' Then I usually end with how amazed I am that I can survive in this crowd as a generalist… in such esteemed company." – Randy Olson
Find out who they are here.
Visit The Photo Society here.
Plus, find out the top hazards of being a National Geographic Photographer.