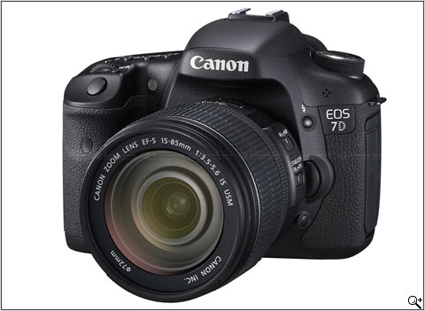 Canon introduces the EOS 7D
On September 1'st Canon unveiled their new EOS 7D digital SLR, which incorporates a new design, 18 MP APS-C CMOS Sensor (1.6x), Dual "DIGIC 4" processors, an ISO range expandable to 12,800, and continuous shooting at 8 frames per second. Oh and yea, it also shoots full HD video with options for 24 fps!
7D Features:
•    18MP APS-C CMOS sensor
•    8 frames per second continuous shooting
•    1080p HD video recording with manual controls
•    3.0 inch Clear View II LCD screen with 920,000 dots
•    19-point AF system (all cross-type)
•    1.0x magnification and 100% coverage viewfinder
•    Wireless flash control
•    Environmental sealing
Price:
$1,699- Body only
Is the 7D right for you?
Consider these questions:
Do I need a full frame sensor?
What kind of weather conditions so I shoot in?
Do I plan on shooting video?
How significant an upgrade is this from my current camera?
What is my budget?
Find more information about the 7D here.
Find the entire Canon line here.