23 Quotes By Photographer Jay Maisel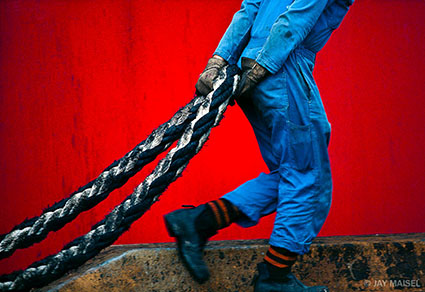 Here's a collection of quotes by photographer Jay Maisel.
"Always carry a camera, it's tough to shoot a picture without one." – Jay Maisel
"Never say you're going back – SHOOT IT NOW!" – Jay Maisel
"If you are out there shooting, things will happen for you. If you're not out there, you'll only hear about it." – Jay Maisel
"Try to go out empty and let your images fill you up." – Jay Maisel
"Allow yourself to lose your way." – Jay Maisel
"It's always around. You just don't see it." – Jay Maisel
"If you can capture the element of surprise, you're way ahead of the game." – Jay Maisel
"You have to have a lot of 'overage' so that your failures aren't the only thing you come home with. You've got to have a lot of things that were magnificent failures, but you want some magnificent successes." – Jay Maisel
"There are rules about perception, but not about photography." – Jay Maisel
"When finding the right angle for a shot…'Move your ass.'" – Jay Maisel
"You find that you have to do many things, more than just lift up the camera and shoot, and so you get involved in it in a very physical way. You may find that the picture you want to do can only be made from a certain place, and you're not there, so you have to physically go there. And that participation may spur you on to work harder on the thing, . . . because in the physical change of position you start seeing a whole different relationship." – Jay Maisel
"A photographer's art is more in his perceptions than his execution. In a painter, I think the perception is only the first step, and then you have a kind of hard road of execution." – Jay Maisel
"Be aware of every square millimeter of your frame." – Jay Maisel
"You are responsible for every part of your image, even the parts you're not interested in." – Jay Maisel
"If you're not shooting in the right direction, it doesn't matter how well you're shooting."
"If the light is great in front of you, you should turn around and see what it is doing behind you." – Jay Maisel
"As people, we love pattern. But interrupted pattern is more interesting." – Jay Maisel
"Every picture should have a place you can go, a home, a climax." – Jay Maisel
"Never put lettering in your photos unless you want it read." – Jay Maisel
"I don't see light as something that falls, but as a positive force." – Jay Maisel
"I'm a New Yorker. I don't believe in air unless I can see it." – Jay Maisel
"Each picture you take has power as long as it brings experience to the person who's looking at it." – Jay Maisel
"If you want to make more interesting pictures, become a more interesting person." – Jay Maisel
Find out more about Jay Maisel here.
Read more quotes by photographers here.
View documentaries on photographers here.