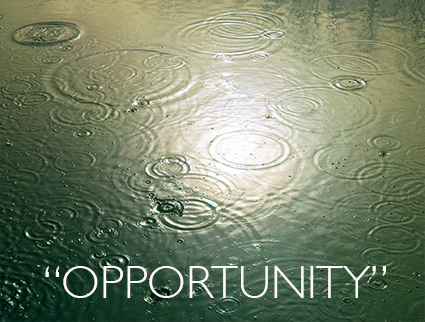 Here's a collection of my favorite quotes on opportunity.
"To find out what one is fitted to do, and to secure an opportunity to do it, is the key to happiness." – John Dewey
"Opportunity is missed by most people because it is dressed in overalls and looks like work." – Thomas A. Edison
"Luck is what happens when preparation meets opportunity." Lucius Annaeus Seneca
"Luck is a matter of preparation meeting opportunity." Oprah Winfrey
"The meeting of preparation with opportunity generates the offspring we call luck." Anthony Robbins
"If you spot an opportunity and are really excited by it, throw yourself into it with everything you've got." – Richard Branson
"One secret of success in life is for a man to be ready for his opportunity when it comes." – Benjamin Disraeli
"While we stop to think, we often miss our opportunity." – Publilius Syrus
"The two worst strategic mistakes to make are acting prematurely and letting an opportunity slip; to avoid this, the warrior treats each situation as if it were unique and never resorts to formulae, recipes or other people's opinions." – Paulo Coelho
"Four things come not back: The spoken word, The sped arrow, The past life, The neglected opportunity." Arabian Proverb
"Nothing is more expensive than a missed opportunity." – H Jackson Brown Jr
"When a great moment knocks on the door of your life, it is often no louder than the beating of your heart, and it is very easy to miss it." ― Boris Pasternak
"If opportunity doesn't knock, build a door." – Milton Berle
"Opportunity does not knock, it presents itself when you beat down the door." – Kyle Chandler
"Sometimes we stare so long at a door that is closing that we see too late the one that is open." – Alexander Graham Bell
"Where one door shuts another opens." – Miguel de Cervantes
"When one door closes another opens. But often we look so long so regretfully upon the closed door that we fail to see the one that has opened for us." – Helen Keller
"When written in Chinese, the word 'crisis' is composed of two characters. One represents danger and the other represents opportunity." – John Fitzgerald Kennedy
"Opportunity often comes in disguised in the form of misfortune or temporary defeat." – Napoleon Hill
"In the middle of difficulty lies opportunity." – Albert Einstein
"Trouble is only opportunity in work clothes." – Henry J. Kaiser
"A pessimist sees the difficulty in every opportunity; an optimist sees the opportunity in every difficulty." – Winston Churchill
"Failure is simply the opportunity to begin again, this time more intelligently." – Henry Ford
"Entrepreneurs are simply those who understand that there is little difference between obstacle and opportunity and are able to turn both to their advantage." – Niccolo Machiavelli
"All of us might wish at times that we lived in a more tranquil world, but we don't. And if our times are difficult and perplexing, so are they challenging and filled with opportunity." – Robert Kennedy
"It still holds true that man is most uniquely human when he turns obstacles into opportunities." – Eric Hoffer
"Opportunities to find deeper powers within ourselves come when life seems most challenging." – Joseph Campbell
"No great man ever complains of want of opportunity." – Ralph Waldo Emerson
"Men make history and not the other way around. In periods where there is no leadership, society stands still. Progress occurs when courageous, skillful leaders seize the opportunity to change things for the better." – Harry S. Truman
"To improve the golden moment of opportunity and catch the good that is within our reach is the great art of life." Samuel Johnson
"A wise man will make more opportunities than he finds." – Francois Bacon
"To hell with circumstances; I create opportunities." – Bruce Lee
"There is far more opportunity than there is ability." – Thomas A. Edison
"Ability is of little account without opportunity." – Napoleon Bonaparte
"It is better to be prepared for an opportunity and not have one than to have an opportunity and not be prepared." – Whitney M. Young, Jr
"All that is valuable in human society depends upon the opportunity for development accorded the individual." – Albert Einstein
"I believe that every single event in life happens in an opportunity to choose love over fear." – Oprah Winfrey
Discover more quotes daily in my Twitter and Facebook streams.
Read more Creativity Quotes here.