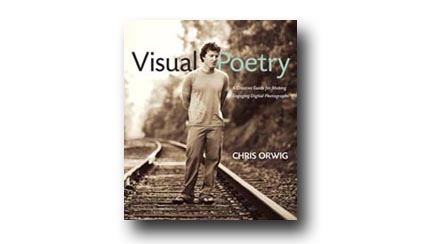 In Chris Orwig's new book Visual Poetry , top photographers answer the same four questions.
What inspires you?
What makes a photograph good?
What character qualities should the photographer nurture and develop?
Advice for the aspiring photographer?
Find out what my answers were
What are yours? Comment here!
What inspires you?
Creation.
Nature – an endlessly unfolding process.
People – lit up with passion and commitment.
What man makes in participation/ collaboration/communion with nature – respectfully.
Acts of compassion and conscientiousness, whether random or not so random.
Wonder – shared.
Inspiration is inspiring – however it's demonstrated.
What makes a photograph good?
The same things that make any work of art good. Passion. Insight. Craft. Awareness of audience. Appropriate context.
All kinds of things make photographs interesting technically; extraordinary detail, recordings made in packets of time we find it challenging to perceive (milliseconds or hours), simultaneously reconciling information at varying distances … or not, artifacts that are specific to the medium (like motion blur or lens flare), etc – things that are lost or found in translation.
All this can make interesting work, but none of it makes great work. Great work is made when people challenge themselves to sense more and respond more deeply than they ordinarily would and to bring back their newfound discoveries in meaningful ways. Whether great or small, somehow, I think the acquisition and transmission of wisdom is involved.
What character qualities should the photographer nurture and develop?
An artist needs to develop the same qualities as any human being. Sensitivity. Curiosity. Compassion. Conscientiousness. Respect. Wonder. Artists' works are a reflection of themselves. Personal development leads to greater depth in our work. Our skills and viewpoints may vary, but our basic humanity doesn't.
Advice for the aspiring photographer?
"Follow your bliss." Remember, the world doesn't need another Ansel Adams. We had one. No one can replace him. But the world has never had you; a unique individual in a significant environment at an extraordinary moment in time. Be the best you you can be. Make your contribution to the world. Find and refine your authentic voice. You may not know what that is right now or what that will become soon but if you engage the process with all your being you will amaze yourself and everyone around you. Surprise us! Make sure that everything you do, in some way advances your public brand and/or personal growth. There's a lot to be learned from the philosophy, craft, and business practices (they're all important) of those who have gone before you. But, you don't have to do it exactly as they did it. It's your life. Make your life the life you want it to be. Be as creative, resourceful, and persistent as you possibly can to make that dream come true. There's no clear roadmap to an as yet undiscovered territory, you. Dare to be an explorer. And bring us back your story. Make it a good one!

Get Chris Orwig's new book Visual Poetry and find out how top photographers responded including Marc Riboud, Pete Turner, John Sexton, Douglas Kirkland, Joyce Tenneson, Rodney Smith, Jose Villa, Greg Lawler, Elizabeth Messina, Michael Costa, Steve McCurry, Chris Rainier, Ralph Clevenger, Todd Glaser, Paul Liebhardt, Joe Curren, Dan and Janine Patitucci, Jeff Lipsky, John Paul Caponigro, Chase Jarvis, Erik Almas, Keith Carter.