A Sea Change – Tonight at 8pm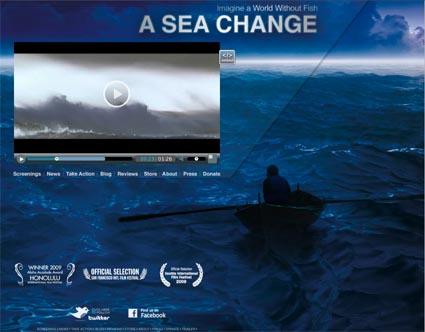 Sat., Sept. 26, 2009, 8 pm, Planet Green Network airs A Sea Change.
A Sea Change documents an extremely pressing issue, acidification of the world's oceans. It's an often overlooked aspect of climate change. Essentially, it's getting harder and harder for marine life to form shells because the oceans are rapidly becoming more acidic. The point of no return is projected by scientists to be less than 50 years away.
Look for Planet Green content on cable, Direct TV, and more. It's the  first & only 24-hour eco-lifestyle TV network. A Sea Change airs as part of Planet Green's "Reel Impact" series. They're in terrific company: also airing are An Inconvenient Truth, Who Killed the Electric Car, and No-Impact Man.
Tell your friends. Email your representatives. The oceans aren't on the table at the upcoming summit COP-15. That needs to change.
Find out more about this issue at worldchanging.com.