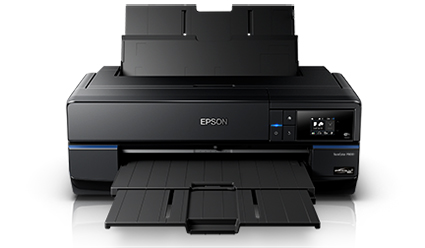 "Epson recently announced the highly anticipated SureColor® P800 printer, representing a new benchmark in photographic print quality. Designed for professional use, the SureColor P800 is a full 17" wide borderless printer with unique Epson® MicroPiezo® AMCTM printhead technology. Leveraging an all-new Epson UltraChrome® HD eight-color pigment ink set, the SureColor P800 is capable of producing the next generation of color and black-and-white prints that will inspire us all."
An optional Roll Paper Adapter, for panoramic prints up to 10' long, will be available for the P800.
Read more about the P800 here.
This news brings two milestones; black density and longevity.
Initial color tests suggest that the new printer / ink technology is capable of delivering a maximum black (dmax) exceeding 2.8 (previously 2.5). By comparison selenium toned silver gelatin is close to 2.4.
And …
Initial longevity test suggest that longevity is improved – dramatically.
"WIR Display Permanence Ratings for black and white prints made with UltraChrome HD inks using Epson's "Advanced Black and White Print Mode" will likely exceed 400 years." "The new UltraChrome HD pigment inks are also expected to have WIR Album and Dark Storage Permanence Ratings well in excess of 200 years."
"With the increased Dmax, wider color gamut, and reduced metamerism provided by the new Epson UltraChrome HD pigment inks – which taken together serve to significantly enhance the visual brilliance of both color and black and white images – the increased overall permanence of the prints represents a significant contribution to photography," said Henry Wilhelm, founder and director of research at Wilhelm Imaging Research.
Read more about the P800 permanence ratings here.
Yes! You can test the P800 in my digital printing workshops.
Learn more in my digital printing workshops.