Check Out The 5 Day Deal Photography Bundle III !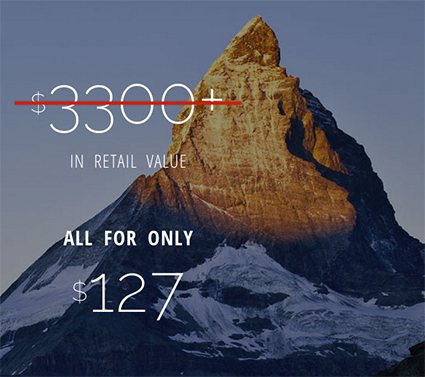 "Whether you're a complete novice trying to get a start, or an experienced photographer looking to polish your skills, The Complete Photography Bundle III contains 50+ products anyone can use to improve and evolve their photography.
All of the products contained in this bundle have been developed by some of the top names in the photography business, and include tips and tricks they've mastered to rise to the top of their game. Now you can take advantage of their experience as they share their hard earned knowledge with you to help you improve your own photography.
When you buy The Complete Photography Bundle III, you'll gain full access to all of the products, which are yours to keep forever. No memberships, no recurring payments. You'll have over 70+ hours of tutorial videos, 10+ photography ebooks, as well as hundreds of Photoshop actions, Lightroom presets, and professional quality textures and overlays.
Sold individually, these products usually sell for more than $3,300, but with The Complete Photography Bundle III, you'll receive everything for only $127. It's the most complete photographic education you can buy, and the training included will help you improve your photography skills and techniques."
Find out more here.