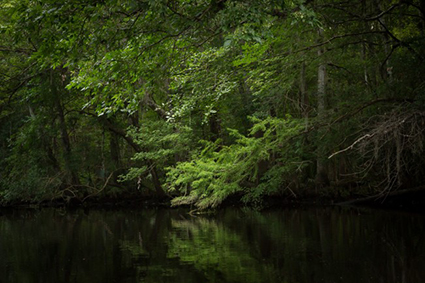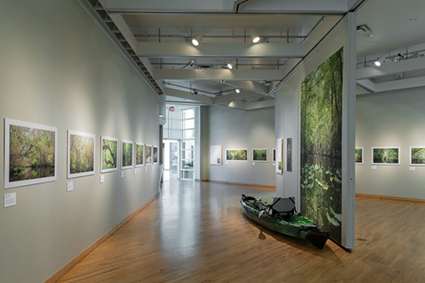 Alumni Doug Eng discusses his new exhibit Streaming South.
"Last spring, paddling a kayak became the first steps of my journey home. My birthplace and residence is Jacksonville, FL, on the St. Johns River, a 310 mile artery dotted with spring fed creeks. I often photographed a glimpse of a creek from a bridge or trail and always wondered what lay beyond what I saw.
"Streaming South" started as a desire to produce a series of intimate landscapes of individual creeks, depicting remote places in the style of early 19th century landscape painters who visited Florida and found an unspoiled paradise. Florida has changed dramatically since those times but I knew that a version of the "real" Florida may lay deep within these creeks and I wanted to find out.
Over the course of one year, I experienced the seasonal characteristics of the landscape in 33 visits to 12 creeks. I created thousands of images and started a blog, streamingsouth.com, to record each outing with comments and additional writings.
Once I began my explorations, my outward excitement about what I was seeing shifted to a personal introspection concerned with ethics, morality, respect, care, and gratitude. Not only was I given a gift of incredible beauty, peace, and solitude, but I was exposed to neglect, disrespect, and violations that stirred deep emotions. I always appreciated where I lived but never had an attachment to anything specific. I never cried when I saw trees being cut or became resentful of a dock or bulkhead on a riverbank. I never laughed at otters eyeing my passage or spent time collecting discarded bottles lodged in the roots of trees. I never witnessed the awe in a perfect reflection of over-arching trees forming a cathedral in the middle of a stream. Now things are different, I have changed.
When photographing the "environment" you make choices. Do you focus on beauty or despair or exactly what exists? It's an easy decision for me. Beauty and peace connected me to my home. Not the plastic bottles, beer cans, old tires, and keep out signs. I believe that my advocacy for attention to these rare places must appeal to what is positive and good about our home. First connection, then care. That's how it worked for me.
As a result of this project, I have developed a special connection to my Home. Connection is about participation, hands on experience, and being present. You must step out your door and cross the line. To really care about a place, to cherish it for what it does to our hearts and souls, to really connect with all that it is, creates the cognizance necessary for responsible, actionable stewardship. These are only pictures, but they represent in a very real way what is here and now and beautiful about our earth and where we live. This work is my advocacy. I am grateful for finding a glimmer of enlightenment through photography for myself and to share with others. The journey continues."
Find out more about Streaming South here.
Find out more about Doug Eng here.