12 Quotes By Photographer Arthur Meyerson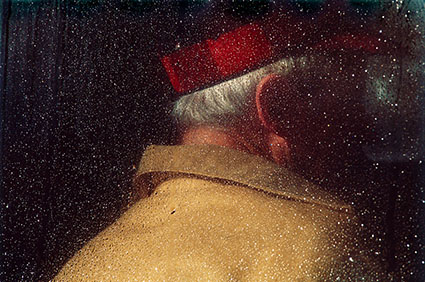 Enjoy this collection of quotes by photographer Arthur Meyerson.
"I usually am going out there in a very "open" state of mind and, therefore, my choices are totally instinctual based on whatever is in front of me." – Arthur Meyerson
"At almost every workshop I've taught, someone will come up and ask me what they should shoot and/or where they should go to shoot. I try to explain that photography is a process… a process of discovery. Not only do you discover things to shoot, you discover things about yourself as a photographer. And, you discover what your interests really are and how best to capture those subjects. One suggestion I always make is to avoid preconceptions. Planning can be highly overrated. Don't go out there with a definitive idea of what you want to shoot. Leave yourself open to chance… whether it's the light, a moment, etc. This way you will avoid being disappointed by what you don't find and instead be amazed by what you do!" – Arthur Meyerson
"The type of photographs that I make are more about a response to light." – Arthur Meyerson
"I began to feel that if I was a good photographer I should be able to produce strong images all day long regardless of the time of day, weather, location or subject. So, it is important to learn to play the hand that's dealt to you." – Arthur Meyerson
"I started in black and white and later moved to color. Many have equated this to learning to draw before learning to paint." – Arthur Meyerson
"For me, a good color photograph has always been more difficult to create than a good black and white image." – Arthur Meyerson
"There are a couple of tests I apply to determine the strength of a color photograph. First, if I transpose it to black and white, is the image stronger? If yes, then I feel I have failed. In a color photograph, color must be part of the total equation. The next test is time. Print the photo, hang it on the wall, look at it everyday. Have I grown bored with it? Does the color still add? Does the photograph still resonate with me?" – Arthur Meyerson
"All the colors in the image work together within the composition and add to the overall image…. allowing me to express what I can't express otherwise." – Arthur Meyerson
"One of the great lessons that I learned from Ernst Haas in working with color, was to throw the picture out of focus, thus, eliminating the subject and then allowing you to see how the colors balance." – Arthur Meyerson
"Early on, I realized that a graphic image, among other things, can be a useful tool. It can provide an exclamation point to an image. It can become a great simplifier to complex image. It can become an abstraction. It can become the image. At it's best, it can take the viewer into a whole other world. On the other hand, an overly graphic image can create a very quick "Wow!" sensation and then upon further viewing, lose that original power because it has been discovered. I think the best graphic images are those where the compositions are less obvious and/or include a counterpoint." – Arthur Meyerson
"I have always felt that my most successful photographs are like short stories; they say the most with the least. The best photographs don't always have stories with answers; sometimes they're stories that ask questions. And, sometimes they're not stories at all; instead they may be visual poems." – Arthur Meyerson
"When you shoot an assignment, you owe it to the client to try it their way; you owe it to yourself to do it your way and if they don't like either, you'll be hitting the highway." – Arthur Meyerson
Learn more about Arthur Meyerson here.
View 12 Great Photographs From Great Photographers.
View more in The Essential Collection Of Documentaries On Photographers.
Read more in The Essential Collection Of Quotes By Photographers.